An Australian surfer has described the terrifying moment a 60ft wave he was trying to ride off the West Australian resort of Margaret River smashed his leg to pieces.
Father-of-two Justin Holland, 38, from the Gold Coast, flew 2,000 miles to WA after hearing about a monster swell at Cow Bombie, off the town of Gracetown.
Along with surfing partner Jamie Mitchell, Holland decided to go out 5km in a bid to tackle the "once-in-a-decade" swell. The surf and wind were so strong the only way to reach the swell was by jetskis.
Holland, who had expected the waves to be around 20ft high, realised as they drew closer they were more like 50ft-60ft. He managed to surf several of the monsters, but then got into difficulty.
"This big one came and it didn't really look much bigger than the ones we were on earlier but when I got on top of it, it felt just like glass," he told Daily Mail Australia.
"I was wondering at the time where the wave was because I knew it was starting to barrel. That's when it landed right on my head and I heard my leg snap."
Holland screamed in agony – but he was underwater.
"My leg was in so much pain, but I inflated my vest and took me straight to the surface."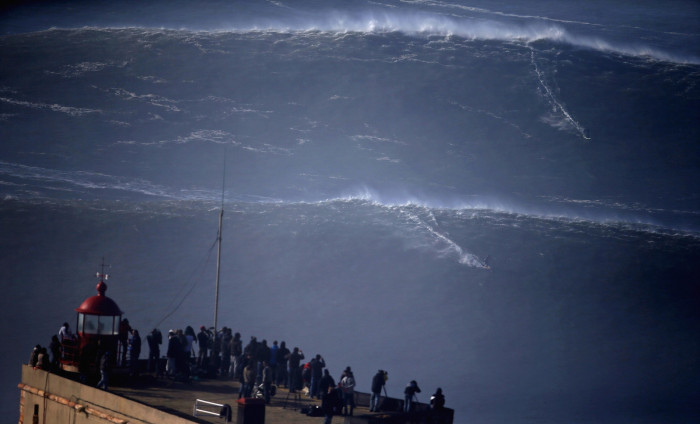 Holland paid credit to Mitchell who managed to sweep him aboard a rescue sled just before another huge wave hit him – which could have cost them both their lives. Mitchell had to call an ambulance from the open water then take them both back 5km to shore.
Holland is now recovering in hospital in Bunbury, and has just one regret.
"I was meant to be heading to Brazil in six weeks for a competition but it doesn't look like that will be happening."
According to the Guinness Book of Records, the largest wave ever surfed was around 80ft (24.3m), surfed by Briton Andrew Cotton in Nazare, Portugal.
The record was previously 78ft surfed by Garrett MacNamara at the same spot. MacNamara's claim to have surfed a 100ft wave in the same area hasn't been verified.