Australia: Tasmanian tiger 'sighting' proves it is not extinct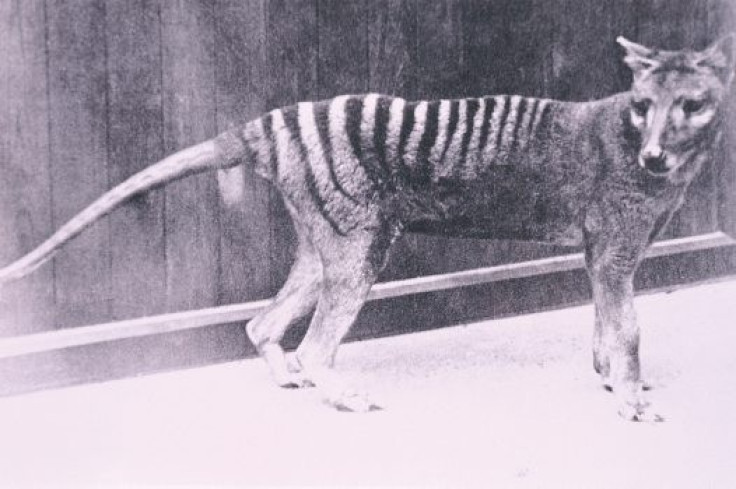 A Tasmanian tiger hunter has said he believes the carnivorous marsupial isn't extinct after all - it's actually roaming across mainland Australia.
World-renowned thylacine hunter Michael Moss has spent 20 years searching for the elusive wildcat across the country, and says dashboard cameras are the key to proving his theory.
"There has already been a claimed sighting of one in Fisheries Rd, Devon Meadows, a few years ago," Moss told the Cranbourne Leader.
"And I've got footage of what I believe is one crossing a paddock in the Strezlecki Ranges, near Wilsons Promontory.
"Most reports to date have been of animals near or crossing roads ... with the advent of dashboard cameras in cars, I think we will see some concrete evidence before much longer."
The dog-like animal has officially been extinct since 1986, though footage Moss captured of a similar creature 15 years ago reignited debate.
Moss was interviewed alongside another Tasmanian tiger spotter, David Chinn, for an upcoming documentary on the tiger, which is expected to air in the coming months.
Speaking to the Cranbourne Leader, Moss, 49, says he believes the tigers are extinct in Tasmania, but not in Victoria.
"They were hunted relentlessly in Tasmania because they were a threat to sheep graziers," he said.
"But research I have undertaken through government records shows there were shipments of Tasmanian native animals to Wilsons Promontory between 1910 and 1915, for conservation reasons.
"I believe these shipments may have included tigers and the sightings people now report are of their descendants."
"Footage I have from remotely triggered cameras suggests otherwise. Tigers are very shy of humans. But if they are out there, dashboard cameras should soon give us the evidence we are seeking," he said.
© Copyright IBTimes 2023. All rights reserved.