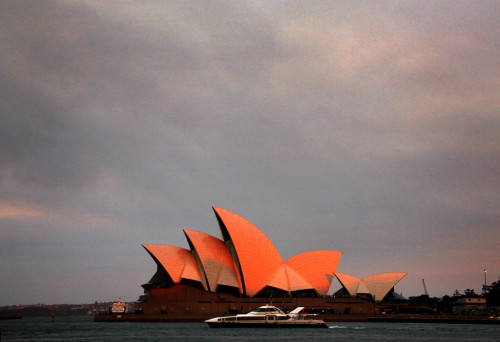 Australia's jobs market deteriorated further in January, raising questions about whether the central bank has stimulated the over $1.5tn economy enough to boost growth in sectors other than mining.
The Australian Bureau of Statistics reported on 13 February that the number of people employed in January dropped by 3,700.
This figure shocked analysts who had expected a rise of 15,000 jobs, according to a Reuters poll.
The unemployment rate struck 6% in January, its highest in more than a decade, from 5.8% in December.
AUD Hit
The disappointing labour market data weighed down on the Australian dollar, which fell one cent to $89.31.
Meanwhile, yields on 10-year government bonds dropped from 4.23% to 4.19%, fuelling speculation that another interest-rate-cut could be on the cards.
HSBC economists said, in a note to clients: "The labor market remains the weakest part of the Australian story. Timely indicators, including housing approvals, retail sales and business conditions have all lifted in recent months, but this is yet to support hiring."
Societe Generale Cross Asset Research said in a note to clients: "For the second month in succession, employment in Australia declined outright, thus falling well short of expectations. Payrolls fell by 3.7k, not as bad as December's 23k drop, but still far short of expectations (median +15k, SG 27k). Unemployment rose by a large margin of 17k, reflecting a rebound in the labour force (+13k after -14k), which pushed up the unemployment rate to 6.0%, the highest rate in a decade (July 2003).
"Of course, the risks that the [Reserve Bank of Australia] eventually returns to an easing bias and/or cuts rates have risen with these labour market figures. But the prospect is in our view still remote. For one, real rates are effectively zero, so policy is already very accommodating."
"Moreover, interest rate-sensitive parts of the economy are already clearly responding, starting with credit growth. Lastly, softness in the labour market is not new, and yet the RBA just finally abandoned its easing bias at the February meeting. The key factor is the exchange rate: if it holds around current levels or declines, we still believe a long period of unchanged rates is on the cards," the French firm added.
Credit Agricole said, in a note to clients: "AUD has been one of the best performing major currencies so far in February. Better than expected Chinese trade data released [on 12 February] was a boon for the AUD given Australia's strong trade links with China.
"Moreover, as markets have backed away from RBA policy easing expectations AUD has gained a sound footing. Positive sentiment for the AUD was dashed [on 13 February] however, following the release of January jobs data which came in worse than expected at -3.7k versus +15k consensus."
"The details were weak too, with the unemployment rate rising to 6% and participation rate dropping. The data will clearly restrain AUD in the short term but is unlikely to spark renewed risks of further policy easing given a rise in inflation pressures. In this respect, AUD is set to continue to show some resilience over coming weeks," the French bank added.
Bearish Outlook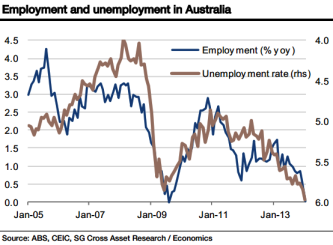 Australia's jobless rate has been on the rise for a while now, just as the economy struggles to move away from mining-led growth.
The manufacturing sector too has suffered job losses.
Toyota, the world's best-selling automaker, said earlier in the week that it would stop producing cars in Australia by 2017, a move that would result in some 2,500 job losses. Toyota's decision follows similar moves by Ford Motor and General Motors who would be exiting the country over the next few years.
In the RBA's Statement on Monetary Policy released on 7 February, the central bank said that: "With growth of economic activity expected to remain below trend for a few more quarters at least, it is likely that employment growth will be only moderate over the coming year and the unemployment rate will continue to edge higher. From around early 2015, stronger economic growth should underpin an increase in labour demand, with growth in employment increasing and the unemployment rate declining gradually."