A council in Australia has sparked outrage by offering cash for the scalps of dead animals.
Banana shire in Queensland is offering $10 dollars for scalps of dead adult cats and $5 for kittens. They say the scheme will help reduce the number of stray animals which they say are a threat to native wildlife.
Around 750,000 birds are killed every day by cats in Australia. Authorities have set aside $25,000 and will also offer $30 for the scalps of wild dogs or dingoes.
Animal rights group Peta has strongly opposed the council's new measures and has erected a large billboard outside the council's headquarters in Biloela. The billboard reads: "Warning: cats at risk outdoors. They need your protection. Keep them safe inside."
A Peta spokeswoman, Laura Weyman-Jones, said the bounty was "cruel" and would not solve the problem of wild felines in rural areas.
"The only real solution to Australia's feral cat problem is to embark on a widespread sterilsation campaign, where funds are directed towards immunocontraceptive solutions that will humanely and effectively decrease homeless cat populations.
"Not only is a cat scalp bounty cruel, it likely won't have the desired long-term effect of lowering the population. Instead, we'll end up in an endless and expensive killing cycle."
John McDougall, the area's director of council services, has dismissed concerns that domestic pets will be killed and says the bounty only applies to cats killed on rural properties.
"If people know where their cats are and they're in a domestic situation, or in town, there is no risk whatsoever," he said.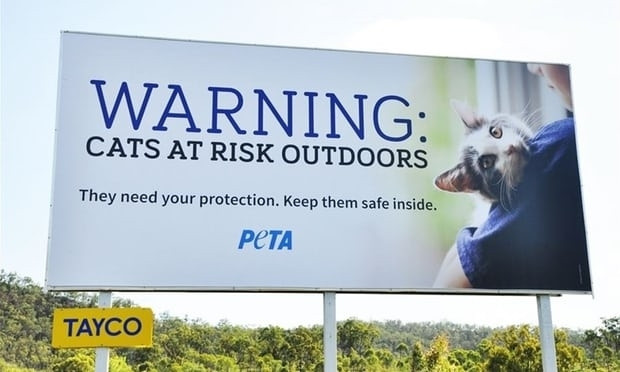 "We'd like to let our kids and grandchildren see mammals and birds in the native environment for decades to come, and this is a measure no different from the pigs and foxes that we are trying to control. We are not taking it lightly."
Australia has seen a number of high-profile animal cruelty cases in recent years. Last week the body of a mutilated koala with its ears slashed off was discovered in Queensland. Police said the incident was "troublesome and disgusting."