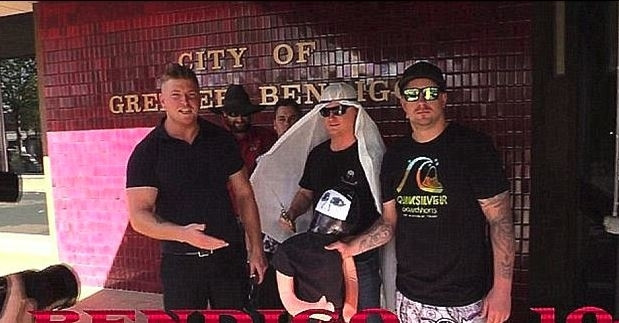 Three far-right activists have been found guilty of criminal offence against Muslims in Victoria, Australia.
The three men staged a mock beheading outside the city of Bendigo's offices in October 2015. They did so to protest the construction of a mosque in the city, reports the Australian Associated Press.
They are the first people to be convicted under Victoria's Racial and Religious Tolerance Act (VRRTA), which took effect in 2002.
Blair Cottrell, 27, Christopher Shortis, 46, and Neil Erikson, 32, were all found guilty of inciting contempt, revulsion or ridicule of Muslims. Cottrell is the leader of far-right group the United Patriots Front, while Shortis and Erikson are both group members. They all spoke for themselves in court.
On 4 October 2015, the three far-right activists recorded their stunt. A video was then uploaded to the United Patriots Front's Facebook Page. It shows Shortis wearing a white cloth as a headdress supposed to resemble a keffiyeh – traditional Arab attire – flanked by Erikson. Cottrell is the "director," and orders the two other to behead a dummy. Shortis seemingly shouts "Allahu Akbar" in the footage.
The hearing was conducted by Judge John Hardy, who believes the trio had "crossed a line. He added: "We live in a community that is extraordinarily diverse and each person is entitled to live their life without being subjected to wrongful conduct by others." Judge Hardy also explained that: the aim of the footage was to induce "as many like-minded people" as possible to take part in their rally, scheduled to take place six days later.
Cottrell, Shortis and Erikson all pleaded not guilty. Their argument is that the video was not intended to insult Muslims, but to highlight beheadings as a danger of the religion. Shortis advanced no one had formally complained about the video: "How can we be charged? No one was offended," and added that the footage was "a political statement on the dangers of Islam by focusing on a tenet of [the religion]".
However, Judge Hardy countered that a complaint was not a requirement of the VRRTA.
The accused then stood by the idea that the law was wrong. Shortis, who said he had "political aspirations," claimed: "A court of law is not the place for hurt feelings," and added, "I am concerned here today the DPP has the power to institute a blasphemy law in disguise."
Cottrell, who is currently banned from Facebook, told the court it was outside his control what people drew from watching the video and that he did not intend to "stir up" contempt for Muslims. However, he regularly tweets anti Islam content, and claims to be "standing against the Islamic invasion and construction of Mosques".
He seems determined to bring his case to higher courts to dismiss Judge Hardy's ruling.