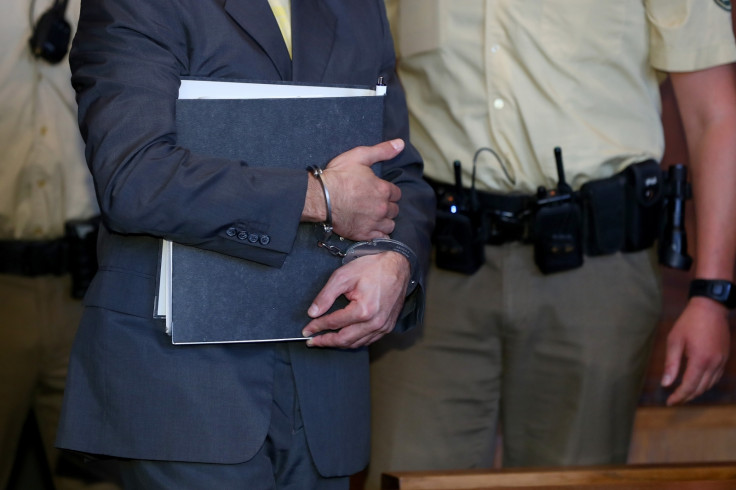 A suspected member of a German far-right group has gone on trial for the murder of a police officer during a raid on his home as authorities attempted to confiscate a firearms hoard.
The trial of the man identified only as Wolfgang P. opened at the state court in Nuremberg and has put the nation's far-right Reichsburger movement in the spotlight. It is known as a loose group that refuses to acknowledge Germany's post-war republic.
However, prior to the trial the 49-year-old amateur hunter's lawyer Susanne Koller denied that her client had any intention of murder and that he was a Reichsbürger.
She said: "He would not describe himself as that."
Prosecutors have also charged Wolfgang P. with three counts of attempted murder and two of serious bodily harm.
The police say the defendant killed one officer on 19 October last year after a special forces unit surrounded his home in the small Bavarian town of Georgensgmünd in an attempt to seize an arsenal of more than 30 firearms he owned. Wolfgang P. maintained he fired in self-defence.
Prosecutors allege the keen hunter shot 11 rounds through the locked front door of his house, hitting one officer in the lung who later died in hospital. Among those wounded an officer was hit in the forearm, while another was injured by shards of glass from the door.
A key question the trial - set to last 12 days - will have to answer is whether or not Wolfgang P. knew that a police raid was imminent and had prepared for it.
State prosecutors have argued that the accused had been wearing a bulletproof vest, and that he had deliberately waited until as many police officers as possible were close to his front door before opening fire.
But defending lawyer Koller said just before the trial his client had had no idea that police were at his door, and that the shots had been fired after he had been awakened by the "amateurish" raid on his house.
Koller said: "With the best will in the world, we do not recognise the grounds for a murder charge."
According to the state prosecutor's investigation, Wolfgang P. had initially owned a gun licence but had refused a local inspection, prompting authorities to revoke it and demanded he gave up his weapons.
His refusal led to the raid last October. The incident has led to a police crackdown on the Reichsbürger movement, said to number some 12,600 members across the country. Some members are said to belong to the security services, prompting speculation that Wolfgang P. had been tipped off about the raid.
The group is considered far right, nationalist, and often anti-Semitic, but its main characteristic is belief in the conspiracy theory that the Federal Republic of Germany does not legally exist, since Germany never signed a peace treaty with the Allies at the end of World War II. It believes in the continued existence of a German empire, or Reich, dating back to 1937 or even earlier.
Members of this group do not respect the authority of the German government or its constitution, and often refuse to pay taxes.