Australian Prime Minister Malcolm Turnbull has lashed out at the UN and defended Israel as Benjamin Netanyahu embarks on a four-day visit to the country on Wednesday (22 February). Turnbull said he would never support "one-sided resolutions" as he called for an end to the Israel-Palestine crisis.
Netanyahu becomes the first Israeli prime minister ever to visit Australia. He is travelling with a business delegation and is expected to sign bilateral deals involving cyber-security, innovation and science, technological research and air services.
Reiterating Australia's stand on the Middle East issue, Turnbull said he would not support any resolution like the one the UN Security Council came up with in December. The resolution condemned Israel's continued settlements in occupied Palestinian territories that "constitute a flagrant violation of international law", which the council said undermined efforts to reach a two-state solution.
The US under Barack Obama's administration abstained from that vote. Australia, which is not a member of the Security Council, was one of the few countries that offered support to Israel's position publicly.
"My government will not support one-sided resolutions criticising Israel of the kind recently adopted by the UN Security Council and we deplore the boycott campaign designed to delegitimise the Jewish state," Turnbull said in an editorial in Murdoch-owned The Australian newspaper.
At the same time, he noted that Australia recognises the need to reach a settlement between Israel and Palestine. "We support a directly negotiated two-state solution so that Palestinians will have their own state and the people of Israel can be secure within agreed borders," Turnbull wrote.
Netanyahu said he was delighted to read Turnbull's article.
However, former Australian prime ministers Kevin Rudd and Bob Hawke called on the opposition to make formal recognition of Palestinian statehood Labour policy.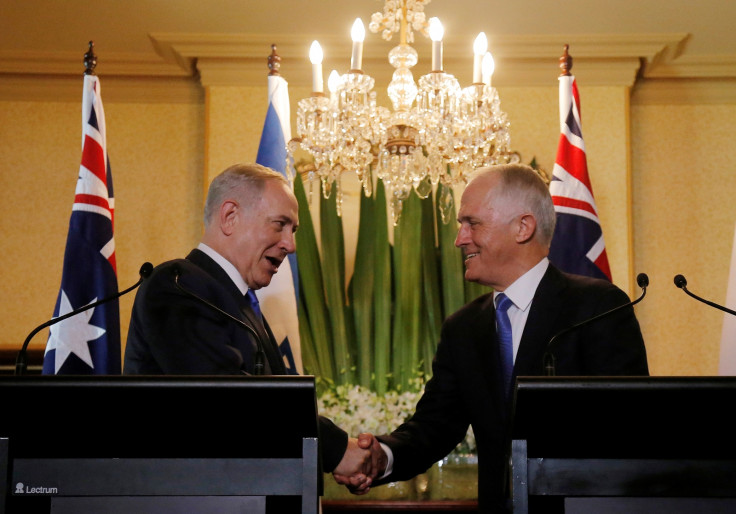 Netanyahu brushed aside criticism of Israeli West bank settlements. "I ask both former prime ministers to ask a simple question: What kind of state will it be that they are advocating? A state that calls for Israel's destruction? A state whose territory will be used immediately for radical Islam?" the Associated Press quoted him as saying.
Netanyahu also acknowledged the nearly hundred-year-old ties between Australia and Israel. "I always remember, it was Australian light horse that liberated Beersheba, an old, old city in our history. We have been friends — extraordinary friends — ever since," Netanyahu was quoted as saying by the Australian Broadcasting Corporation.