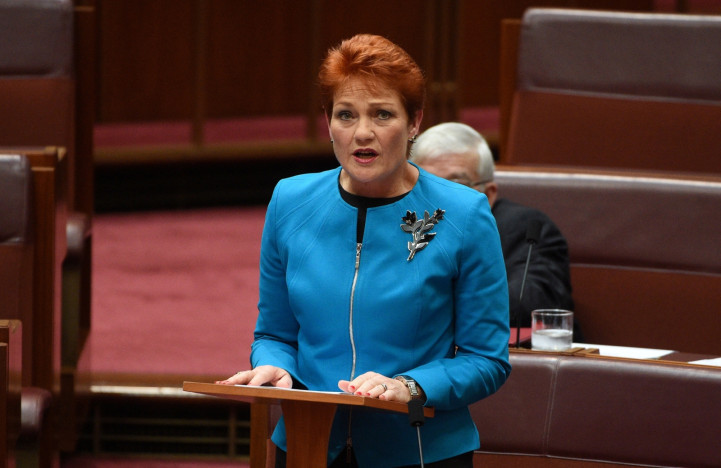 Australia's One Nation Party Senator Pauline Hanson on Wednesday (14 September), in her first comeback speech in parliament stirred up controversy by making Islamophobic remarks.
Pauline in her speech said: "We are in danger of being swamped by Muslims who bear a culture and ideology incompatible with our own." When she returned to parliament on Thursday, she was unapologetic for "preserving our way of life."
Returning to politics after 20 years, Hanson added in her speech that if immigrants were not willing to assimilate and accept Australian values, "I suggest you go back to where you came from".
This is not first time when she has made such an anti-multiculturalism remark. In 1996, she made similar remarks about Asians. In that speech she said that the country was in danger of being swamped by Asians.
"Indiscriminate and aggressive multiculturalism have caused crime to escalate and social cohesion to decline. Too many of us live in fear of terrorism.
"Muslims are prominent in organised crime, anti-social behaviour is rampant and ... surveys find that in neighbourhoods of Muslim settlement ... Australians, in general, are more fearful." she was quoted as saying by news.com.au.
She went on to say, "If it would be of any help, I'll take you to the airport and wave you goodbye with sincere best wishes." She also said that if migrants were willing to assimilate "I welcome them from the bottom of my heart."
The senator from Queensland with her comments caused the Greens senators to stage a walk out from the senate chamber. She has also come under criticism from Prime Minister Malcolm Turnbull.
Turnbull told an Australian Newspaper "Senator Hanson knows I do not agree with her views on migration. Australia is the world's most successful multicultural society and the foundation of that success is mutual respect."
Richard Di Natale, Greens leader, who lead his party members out of the chamber said anti muslim rhetoric "has no place in parliament but that is what we have just heard from Senator Hanson."
Islamic Council of Queensland's spokesperson, Ali Kadri compared Hanson to al-Qaeda.
"Before it became a terrorist organisation, it preached an ideology of hatred. Unfortunately Pauline Hanson and people like Donald Trump and others are taking the West towards that path as well, and that path only leads towards the destruction of nations and people and we've seen that in the Middle East."