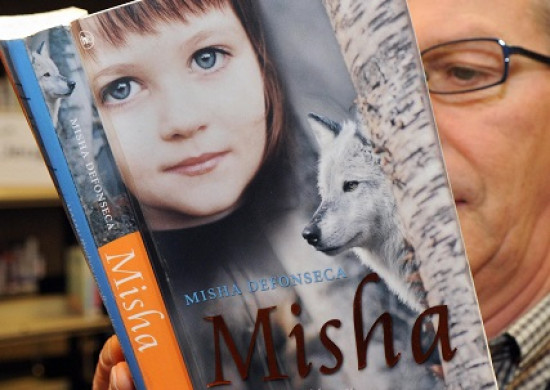 An author who was revealed to have fabricated her story on surviving the Holocaust has been made to pay back more than $22m to her publishers.
Misha Defonseca, 76, admitted to making up the stories which appeared in her 1997 book Misha: A Memoire of the Holocaust Years, which told of how she travelled across Europe after her parents were taken by the Nazis.
Tales which later turned out to be false, included those involving the author killing a Nazi soldier who was about to rape her, and being taken in by a pack of wolves while she travelled through the wilderness.
It emerged that Defonseca was not even Jewish and was enrolled in a school in Belgium during World War II.
Before the book was exposed as a hoax, Defonseca and her ghost writer Vera Lee won $32.4m from publisher Mt Ivy Press and its founder Jane Daniel in 1998 for "highly improper representations and activities" after Daniel was said to have hid profits from the author.
The book was a best-seller in a number of European countries and has been printed in 18 different languages. It was also adapted into a film in France in 2007.
Daniel appealed against the $32.4m figure in 2005. Although the court upheld the original decision, Daniel said she noticed inconsistences in the stories which appeared in the book and accounts Defonseca had given in the Massachusetts court.
After conducting her own research, it was revealed Defonseca's real name was Monica Ernestine Josephine De Wael, not Misha Levy, as stated in the book.
It was also revealed that between the ages of seven and 11, the author had not in fact been wandering through Europe with a pack of wolves, but had actually been enrolled at a Brussels school.
After admitting to making up her memoirs, she was ordered to pay back her $22.5m share of the previous court case.
The court heard how Defonseca's parents were indeed captured and executed by the Nazis when she was four-year-old. Regarding what happened next, she admitted that she had told the lie for so many years that she struggled to "differentiate between what was real and what was part of my imagination".
"This story is mine. It is not actually reality, but my reality, my way of surviving," said Defonseca in a statement via her lawyers.
"I ask forgiveness to all who felt betrayed. I beg you to put yourself in my place, of a four-year-old girl who was very lost."