Avengers 2 Captain America Website 'Shield vs Hydra' Goes Viral: Captain's Orders or Hail Hydra?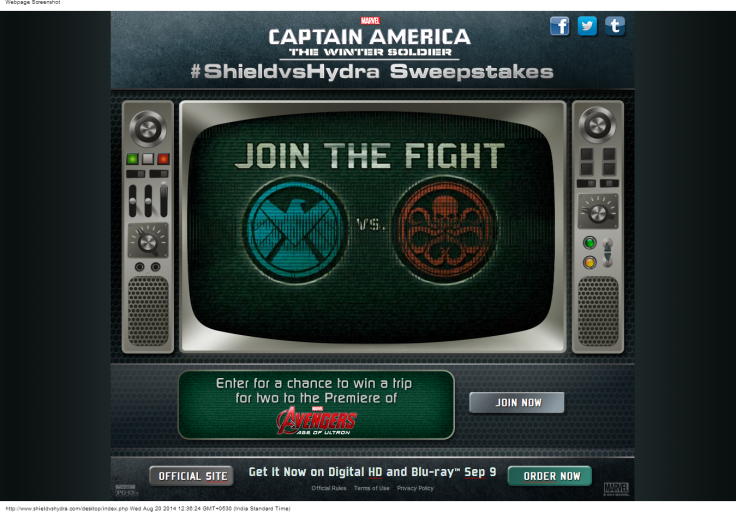 With Captain America: The Winter Soldier DVD and Blu-ray hitting the market in a couple of weeks, and 'Avengers: Age of Ultron' filming completed, Marvel has set up a new viral site where you can find out if your allegiance is to Shield or Hydra.
Fans will be rewarded with prizes for visiting the site and finding out if they're on team Shield or part of the wicked Hydra organisation, reported Hollywood reporter.
Most times viral sites just offer neat little puzzles to help uncover new images or clips, but Marvel has made its site a lot more interesting than that.
Marvel's Shield vs Hydra site allows fans to enter information into Armin Zola's algorithm. Based on the information entered the algorithm will determine if the participant belongs to the side of Shield or Hydra. Typical examples of the questions you'll have to answer are: Which decade was the most influential in American history; which trait do you find the most important, etc.
Participants can then compete in a series of missions, which will be assigned to them online every week for the next four weeks.
Among the prizes on offer are autographed posters, flash drives, and Marvel comic subscriptions. The lucky winner will make it to the grand prize: a trip along with a friend to next year's premiere of Avengers: Age of Ultron in Los Angeles.
The grand prize will be announced sometime around September 22.
Hail Avengers!
© Copyright IBTimes 2023. All rights reserved.