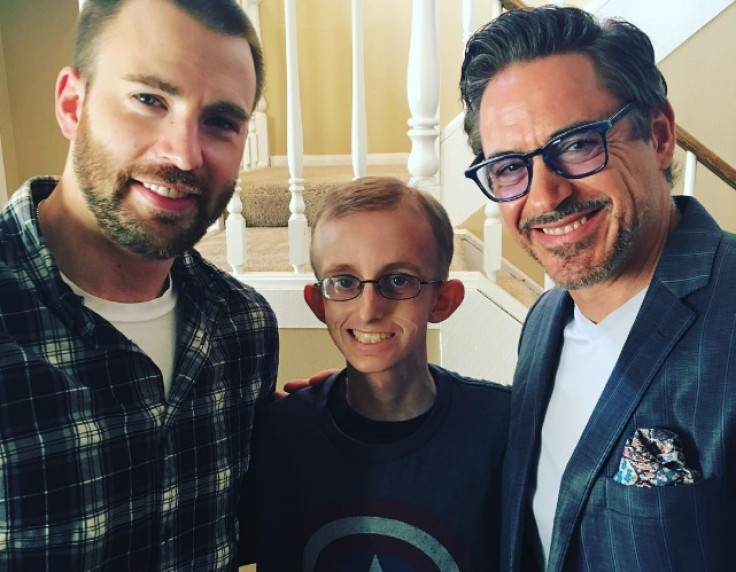 Now that they're finished promoting Captain America: Civil War, Chris Evans and Robert Downey Jr have found their schedules a little freer over the last couple of weeks. So, what better way to spend those days off than by making a teenager's dream of meeting his idols come true.
Accompanied by their Avengers Assemble co-star Gwyneth Paltrow, Evans and Downey Jr paid a special visit to 18-year-old Ryan Wilcox in San Diego, California after being made aware that the super-Marvel fan was battling cancer, after being diagnosed with leukaemia for the second time.
Before even meeting Wilcox, Evans had sent him a personalised video encouraging him to "keep fighting" and praising his allegiance to Captain America... (an alliance pledged even further by Wilcox's T-shirt when the actors paid him their visit). But it was Paltrow who got the band together to visit Wilcox after she saw an image of him going viral on social media.
Sharing the photograph of Wilcox on Instagram, she tagged her male co-stars in the caption, urging them to "take a road trip," sweetening the deal by offering "drive [the] guys down." Her plan came to fruition on Monday 23 May, beginning with Paltrow posting a snapshot of Evans and Downey Jr outside an aircraft hangar, alongside an enthusiastic, "let's do this" and the hashtag "#ryanstrong."
The trio spent the whole of Monday afternoon with Wilcox and the rest of his family, making sure to sign autographs before they left - including one on the teen's bedroom wall.
Sharing a glimpse into their day on social media after the visit, Paltrow once again took to Instagram to post a picture of Wilcox standing between Evans and Downey Jr. "Today@ryanwilcox0303 got a little surprise," she wrote. "Thank you to the incredible #chrisevans and my better work half @robertdowneyjr for being the men you both are. And thank you to the Wilcox family for your hospitality! #ryanstrong." Wilcox also reportedly shared his own image of the encounter with the actors, however, his account is currently private.
For more entertainment news follow A-List on Twitter @Alistinsider