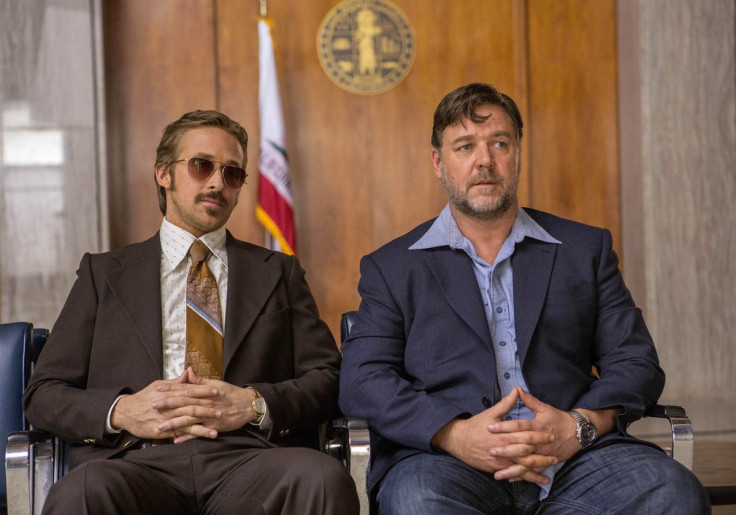 Writer-turned-director Shane Black teams with writer Anthony Bagarozzi and unlikely duo Ryan Gosling and Russell Crowe for his outrageously silly but stupidly entertaining action comedy, The Nice Guys. Kim Basinger and Matt Bomer also star.
Set in the late-1970s, where smog alerts are frequent and debauchery is rampant, officials declare well-loved LA porn star Misty Mountains dead from an apparent suicide, after she is found having crashed into a house late one night.
A short while after the incident, professional thug Jackson Healy (Crowe) is hired by a young girl named Amelia to beat on these two guys that she's noticed have been following her. After she coughs up, he obliges, leading him to abysmal yet charming private investigator Holland March (Gosling) who almost immediately admits that he's working for a senile old woman who believes she saw her niece Misty alive the day after the crash... a claim that led March to 'look-a-like' Amelia.
Only, March wasn't the only one looking for Amelia, Healy soon discovers, and as things get more and more complicated and links between Misty and Amelia start to emerge, she vanishes. Panicked, Healy reluctantly teams up with March to get to the bottom of what has, or is, happening to these two seemingly unrelated young girls but before they get answers however, they'll have to take on a world filled with eccentric goons, strippers dressed as mermaids and even a possible government conspiracy.
Our verdict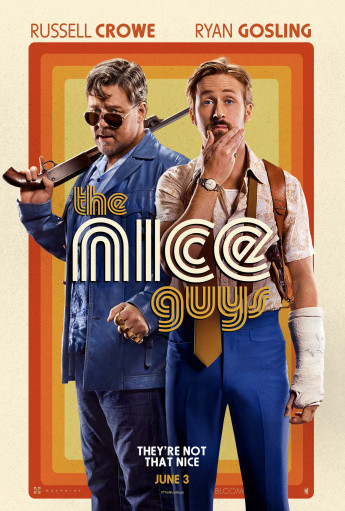 Considering he's the filmmaker behind Lethal Weapon, it's not surprising that Black manages to master his delivery of a comedy duo on-screen in The Nice Guys. The writer-director has also already proved time and time again that he knows how to handle action too, having helmed The Long Kiss Goodnight, Iron Man 3 and now tackling a reboot of the Predator franchise. What's more of a sweet surprise is how well he juggles the thrills with slapstick comedy here, injecting humour every chance he gets into his co-written script.
But its his two leads that really do the work, with Gosling perfectly embodying the haplessness but unshakeable self-confidence of alcoholic March, taking the comedic chops we glimpsed from him in The Big Short earlier this year and dialling them up to 11. Whether he's prat-falling over a condo balcony, losing all ability to use his face when he stumbles across a dead body, rambling on about Hitler or hallucinating about a talking giant bee while driving, his energy levels here are unparalleled and he demands the audience's attention in a wildly different way than in quiet dramas Drive and Blue Valentine.
Crowe certainly matches him with his excellent portrayal of slightly softer – in both body and personality – and much more capable, Healy though, presenting a much more human and morally just side to the work of a PI. As bromance-like as it sounds, he's the 'yin' to Gosling's 'yang' here, elevating Gosling's gags whenever his more serious Healy looks at his partner like he's a babbling idiot. You know you're a useless detective when an amateur without a license schools you in every aspect of crime-solving...
Despite Healy being the more efficient one when it comes to their self-issued case in comparison to March, it's actually March's precocious daughter Holly who is the brains behind most of the pair's leads, and newcomer Angourie Rice more than holds her own against the film's huge stars. Sadly, supporting actors Basinger, as Amelia's concerned mother and conveniently Head Of The Justice Department, and Matt Bomer, as a lethal paid assassin who's biggest crime is arguably his Justin Bieber-esque fringe, are sorely underused. But with such a bombastic, tour-de-force duo at the forefront of the film, it's understandable how they fell by the wayside.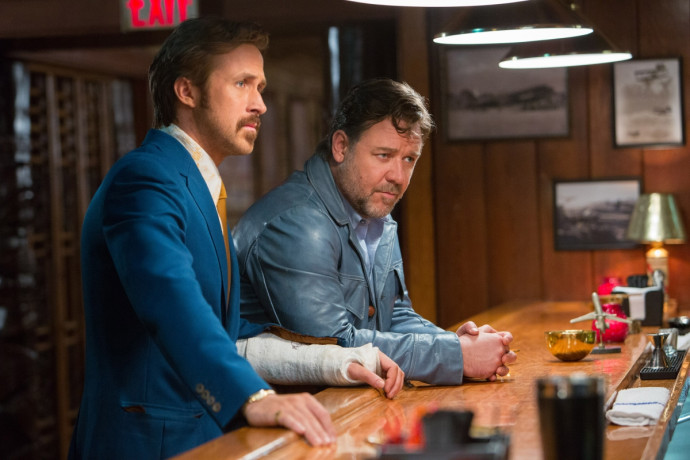 While The Nice Guys is an out-and-out comedy, and a successful one at that, it's clear towards the end that the film might have fared better with a touch of heart. More of an insight as to why Crowe's character Healy is so keen to be the good guy and help people in his own way would have been nice. Or seeing Gosling mend his clearly strained relationship with his daughter, even just a little, would have been more than welcome and given the movie some soul.
Such complaints are merely pointing out what Black could have done to round his comedy into something above and beyond films that have come before it rather than real flaws. Not only does The Nice Guys look old-school you see, with its brilliantly thorough 1970s-inspired sets and costumes, but it harkens back to many buddy action comedies of that era too, adding to its overall enjoyability. Featuring a neon-lit Los Angeles, glamorous porn stars, indulgent parties and booze, booze and more booze, The Nice Guys presents riotous, raunchy fun that never once loses its high-speed momentum... even if it is all a little superficial.
For more entertainment news follow A-List on Twitter @Alistinsider