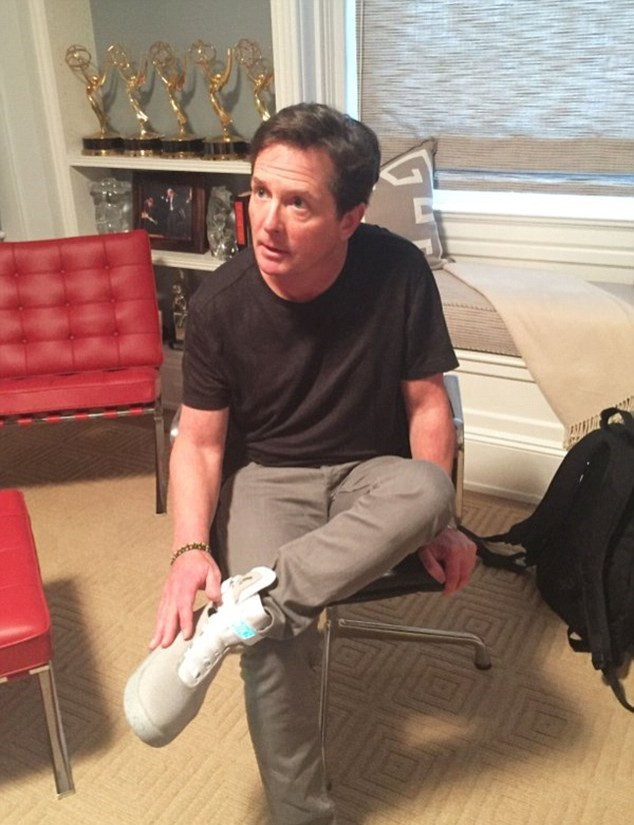 Back To The Future famously predicted that video phones, hover boards, instant pizza and self-tying shoelaces would be de rigueur in the 21st century. While the science behind the coveted hover board has so far eluded us, it seems that the futuristic shoes are a reality.
Star of the movie, Michael J Fox has fittingly been bestowed the honour of becoming the first person in the world to wear the very first pair of self-lacing Nike Mag shoes inspired by the blockbuster Steven Spielberg film.
The 54-year-old actor was presented with the trainers on Back to the Future Day, 21 October, 2015, the date his character Marty McFly travelled to, in the 1989 sequel. In the film, he is seen putting on a pair of Nike High Tops that automatically tighten and adjust to fit his feet using 'power laces.'
A photo and video of Fox trying on the shoes was shared on Twitter by the Michael J. Fox Foundation For Parkinson's Research. "This is real. This is today. Coming spring 2016," he wrote.
The video shows him trying on one of the trainers which makes a whirring sound before it closes around his foot. "Oh, yeah that sound. Yeah, that's cool," he says. "That's insane. That's really great," he adds, clearly impressed by the cool contraption.
Fox, who appeared on Jimmy Kimmel Live wearing the Mags, also posted a letter from the Nike designer Tinker Hatfield. "As the first, most celebrated wearer of the Nike Air Mag, we wanted you to be the first to receive a living pair," Tinker wrote. The designer added: "If my calculations are correct...your pair should be with you shortly."
Explaining the invention of the super sneaker, Nike president and chief executive Mark Parker said: "We started creating something for fiction and we turned it into fact, inventing a new technology that will benefit all athletes."
Meanwhile, among the fans celebrating Back to the Future Day was none other than President Barack Obama. Writing from his official Twitter account POTUS said: "Happy Back to the Future Day, @RealMikeFox! Ever think about the fact that we live in the future we dreamed of then? That's heavy, man."
"Mr. President, I never dreamed I'd be talking about the future with someone who's making History," replied Fox.
The 2015 Nike Mag, is a limited edition release that will only be available via auction in 2015 - the year Back To the Future II was set in. All proceeds from the shoes will go to the Michael J Fox Foundation for Parkinson's Research.