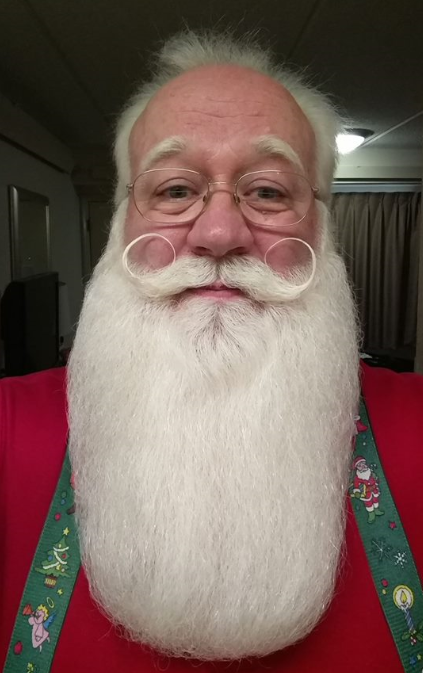 The Santa Claus accused of making up a story regarding a terminally ill five-year-old has a history of using racist slurs and defending far-right sympathies, IBTimes UK can reveal. He is also an avid consumer and distributor of fake news.
Eric Schmitt-Matzen became a global hit after a story about a five-year-old boy dying in his arms went viral. Schmitt-Matzen, a seasoned Santa Claus performer, was happily basking in the adoration of millions until 14 December – when the newspaper who had originally reported the tale announced they no longer trusted his version of events and could not stand by it. The world recoiled as it learned that the feel-good story of Christmas 2016 may have been a pack of lies.
Now IBTimes UK can reveal a different truth about the man behind the big white beard. Our research has uncovered a slew of online content in which Schmitt-Matzen has written and endorsed racist and threatening views, as well as promoting material from far-right groups.
During a Facebook discussion earlier this year about Donald Trump's proposal to build a wall along the Mexican border, Schmitt-Matzen said he supported building another wall between the US and Canada, explaining: "Great! The towel heads are coming across that border too!"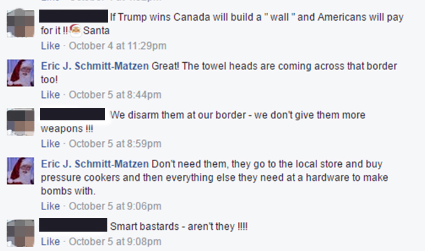 Schmitt-Matzen then went on to describe how "they [Muslims] go to the local store and buy pressure cookers and then everything else they need at a hardware [store] to make bombs with".
In another Islamophobic rant, Schmitt-Matzen posted a purported quote from a war veteran, which used the highly inflammatory term "Japs" to describe Japanese people. It read: "These Muslims are no different from the [Imperial] Japanese. The Japs had their suicide bombers too. And we stopped them. What it takes is the resolve and will to use a level of brutality and violence that your generations can't stomach. And until you can, this shit won't stop."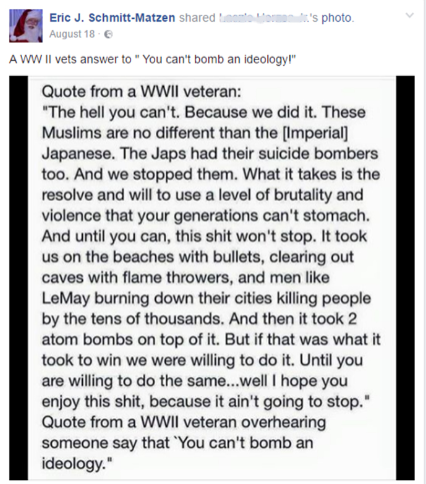 The ersatz St Nick – bringer of goodwill to all men – also shared a post that celebrates the prospect of a cultural war between Muslim extremists and the Nordic race.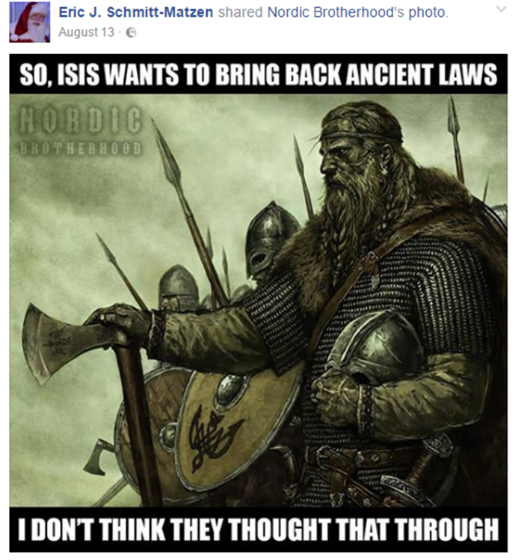 The picture was originally posted by a group called Nordic Brotherhood, an online community for individuals interested in Viking and traditional Scandinavian culture. The group markets T-shirts emblazoned with "Sons of Odin", which identifies the wearer as the descendent of a mythical norse God.
The "Sons of Odin" brand is used unofficially around the world by gangs of white supremacists. Sons of Odin United Kingdom describe the aims of the international movement as being "to band together in a valiant viking quest for victory from the invasion of Islamisation and its threat to our way of life". There is no evidence that Schmitt-Matzen is a member of any such group.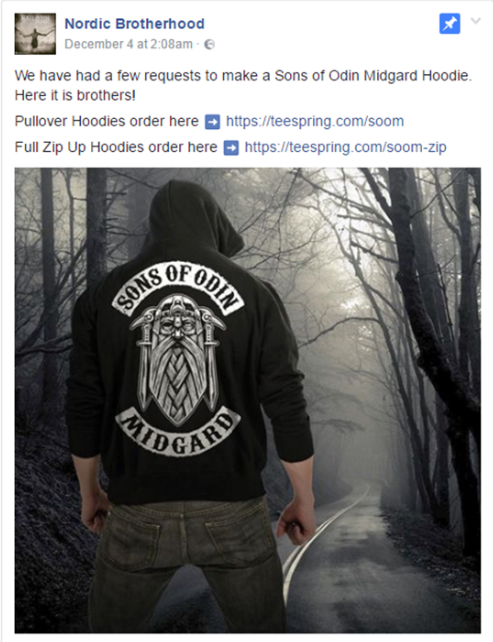 Schmitt-Matzen, aged 60, maintains that a child died in his arms at a hospital in Tennessee while the Knoxville News Sentinel said that after further investigation they no longer stand by him or the story. It is possible we will never know the truth.
Ironically, for a man at the centre of a fake news storm, Schmitt-Matzen seems to have consumed a significant amount of unverified reports himself in the run up to the US election. In one notable post he shares a video that implies Hillary Clinton has had one of her aides, "the man with the syringe", assassinated.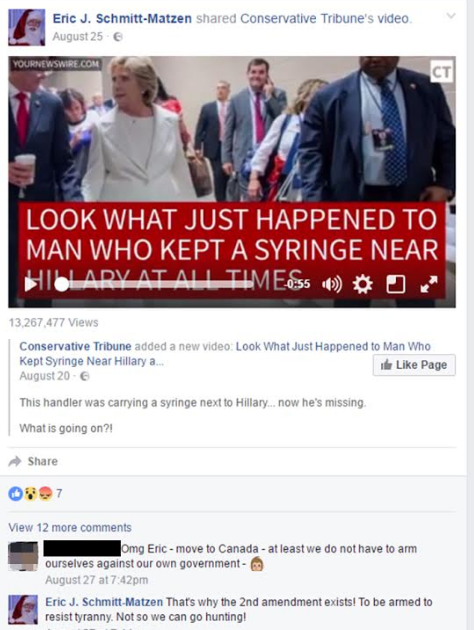 Underneath the video Schmitt-Matzen says: "That's why the second ammendment exists! To be armed to resist tyranny. Not so we can go hunting!"
Schmitt-Matzen could not be reached for comment by IBTimes UK.