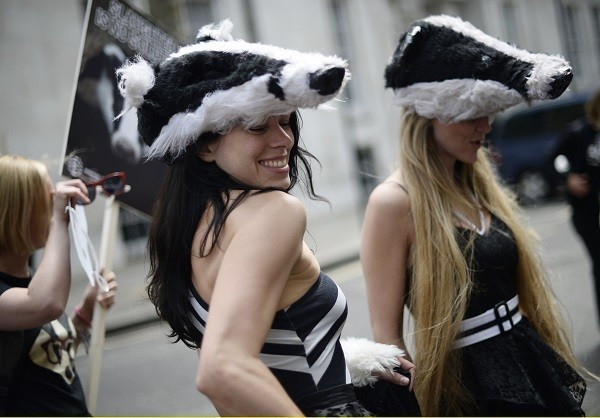 Animal rights activists have threatened to disrupt the planned cull of 70% of the badger population, with saboteurs staging mass trespasses of agricultural land if farmers attempt to carry out government measures to destroy the animals.
The House of Commons has backed a motion calling for the mass shooting of badgers in west England.
Animal welfare groups including Stop The Cull and hunt saboteurs will don high-visibility jackets and stage midnight "walks" on farms in Somerset and Gloucestershire to prevent the slaughter of badgers in response to the government's deeply unpopular move to stop the spread of bovine tuberculosis.
Robbie Marsland, director of the International Fund for Animal Welfare, said: "Activists will take matters into their own hands and stage direct action if the government doesn't do the sensible thing and back down.
"There will be midnight walks in the culling zones, which will play havoc with farmers' attempts to carry out the shooting policy. The police have told us they fear mass public disorder if this cull goes ahead."
Other planned measures include boycotts of supermarkets which stock dairy products from farms within the kill zones. Asda, Marks and Spencer and Waitrose have already bowed to pressure and said they will not sell dairy products from within these areas.
Despite public opposition hardening against it, the proposed cull of 70% of the badger population in Somerset and Gloucestershire, currently being discussed in the House of Commons, could begin in earnest at any time, after the government's culling licence came into effect on 1 June.
Shadow environment secretary Mary Creagh said the taxpayer would have to foot a £4million bill for policing costs to protect the culling areas.
Animal welfare campaigners from groups including Born Free, the League Against Cruel Sports, Network for Animals and Conservatives Against Fox Hunting came together under the umbrella group Team Badger to launch their "mythbusters report" in parliament ahead of the vote.
Actress and wildlife campaigner Virginia McKenna of Born Free said: "There is no way you can humanely kill thousands of animals. Born Free are 100% behind stopping the cull. The focus has to be on prevention of the disease. Many of the government's own members are against this nonsensical measure."
Marsland added: "We are disappointed by this result though not hugely surprised given that MPs were not given the freedom to vote according to conscience.
We will continue to oppose the needless slaughter of badgers and urge the Government to heed the advice of scientists and wildlife experts and reverse this decision now."
READ: Badger Swagger: David Attenborough, Slash and Brian May Record Track to Stop Cull [VIDEO]