Bahrain: 'Angry Arabiya' Zainab al-Khawaja jailed for 3 years for ripping picture of king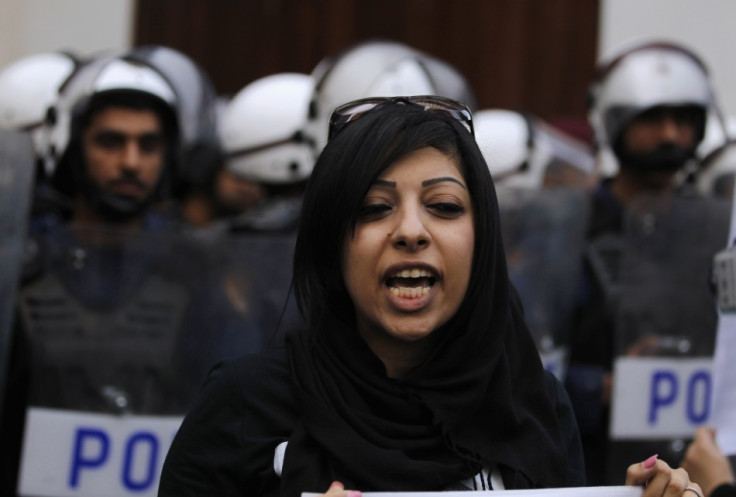 Bahraini pro-democracy activist Zainab al-Khawaja has been sentenced to three years in prison for tearing up a picture of King Hamad during a court hearing.
Zainab, daughter of prominent jailed activist Abdulhadi al-Khawaja, is popular on Twitter under the @angryarabiya profile and spent one year in jail on multiple charges including taking part in an illegal gathering and insulting police.
Upon her latest arrest on 14 October Zainab, who was eight months pregnant and gave birth to a son last week, said:
"I am the daughter of a proud and free man. My mother brought me into this world free, and I will give birth to a free baby boy even if it is inside our prisons. It is my right, and my responsibility as a free person, to protest against oppression and oppressors."
Since the start of the pro-democracy uprising in February 2011, Zainab has been detained several times. She refused to appeal to higher courts because she said Bahrain's judiciary was controlled by the government. She was sentenced to four months in jail in January on a charge of "destroying government property".
Earlier this week, Zainab's younger sister, Maryam al-Khawaja, was sentenced in absentia to one year in jail for assaulting a policewoman. Maryam holds dual Bahraini and Danish citizenship, and is co-director of the Gulf Centre for Human Rights (GCHR) which has offices in Copenhagen and Beirut.
Their father, Abdulhadi, 54, is jailed for life for plotting to overthrow the kingdom. He staged a 110-day hunger strike in 2012 over his imprisonment, and sent a letter to the prison authorities saying that "he would go on a hunger strike until he is released".
Amnesty International and Human Rights Watch describe Abdulhadi as a "prisoner of conscience."
After the crackdown on the pro-democracy uprising in 2011, led by Saudi forces, Bahrain has plunged deeper into sectarian conflict between the wealthy ruling Sunni-al-Khalifa minority and the Shia majority.
King Sheikh Hamad bin Issa Al-Khalifa has pledged to implement recommendations by an independent commission of inquiry but reforms are progressing slowly and reconciliation talks have stalled. Violence between riot police and protesters is a weekly occurrence.
Decrees approved by King Hamad include up to seven years in jail for criticising him. All protests, sit-ins and gatherings in Manama are banned indefinitely.
© Copyright IBTimes 2023. All rights reserved.