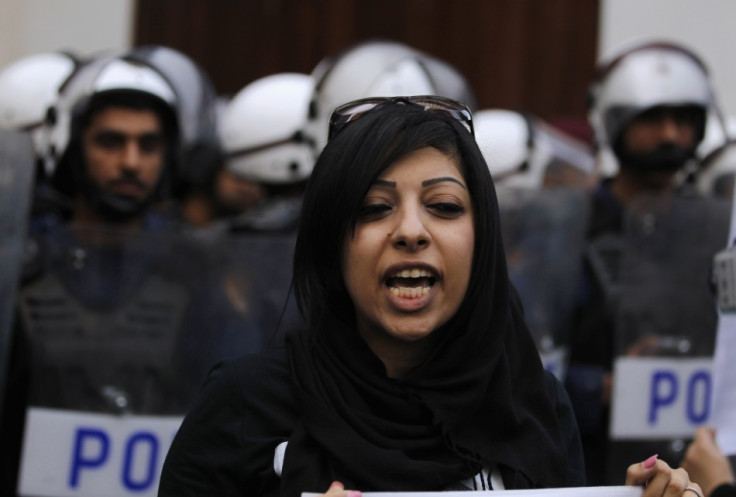 A Bahraini pro-democracy activist has been sentenced to a year in prison for tearing up a picture of King Hamad bin Isa Al Khalifa during a court hearing in 2014, according to Amnesty International.
Zainab al-Khawaja, the daughter of prominent jailed activist Abdulhadi al-Khawaja and popular on Twitter under the @angryarabiya profile, has received a reduced sentence from three years in prison to one by Bahrain's court of appeal. She already spent a year in jail on multiple charges, including taking part in an illegal gathering and insulting police.
The court also imposed a fine of 3,000 Bahraini dinars (£5,000, $7,700) on the 32-year-old activist, who was arrested and released several times since the 2011 protests. The activist is appealing against three other convictions, including a four-month sentence over another photo-ripping protest in 2012 and a nine-month sentence for "insulting a public official" by trying to visit her father in jail.
Human rights activists launched a Twitter campaign to draw international attention to the case, with the hashtag #HappyBirthdayZainab, as the sentencing came just after her 32nd birthday. Her family told Amnesty International that she intended to keep her infant son with her in prison if she was forced to serve her sentence.
Zainab's father Abdulhadi, 55, was jailed for life for plotting to overthrow the kingdom. He staged a 110-day hunger strike in 2012 over his imprisonment and sent a letter to the prison authorities saying "he would go on a hunger strike until he is released". Amnesty International and Human Rights Watch describe Abdulhadi as a "prisoner of conscience."
After the crackdown on the pro-democracy uprising in 2011, led by Saudi forces, Bahrain has plunged deeper into sectarian conflict between the wealthy ruling Sunni-al-Khalifa minority and the Shia majority.