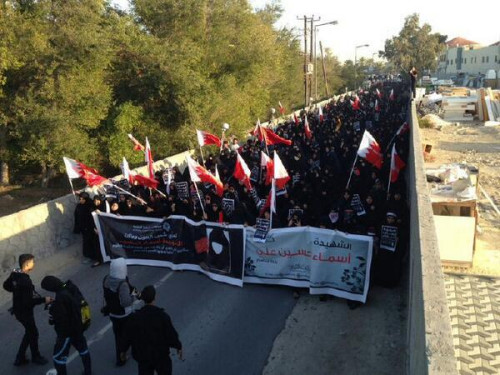 Pro-democracy demonstrators have clashed with police in Bahrain on the third anniversary of the uprising.
In the first of three days of planned protest against the ruling Al-Khalifa family, police fired tear gas in several villages outside the capital Manama as security forces attempted to dismantle roadblocks of burning tyres.
Protesters chanted "Down with Hamad", referring to the king and "Only to Allah we kneel".
Bahraini activist Maryam Al-Khawaja, acting president of the Bahrain Centre for Human Rights (BCHR), said demonstrators have called for three days of civil disobedience, with people asked to refrain from carrying out bank transactions, buying and selling in shops and attending school.
Khawaja added that 26 activists have been arrested during the protests so far.
Activists posted pictures of protesters being teargased, closed shops and road blocks of felled trees and burning tyres on Twitter:
The interior ministry said police "confronted groups of vandals and cleared blocked roads".
The protest movement 'February 14 youth coalition' has urged its supporters on Friday to try to reach Pearl Square, where demonstrators camped out for a month before being violently dispersed by Saudi-backed troops in March 2011.
The Pearl Square roundabout and its central monument, which were symbols of the uprising, were later razed and the site remains heavily restricted.
At least 89 people have been killed in the three years since the launch of the uprising, according to the International Federation for Human Rights.
Amnesty International has warned that the Bahraini authorities may use violence to crack down on planned demonstrations on 14 February
"The authorities' relentless repression of dissent continues unabated – with security forces repeatedly using excessive force to quash anti-government protests," said Said Boumedouha, Amnesty International's Deputy Director for the Middle East and North Africa.
"Scores of people, including dozens of children have been detained for participating in peaceful protests over the last year. Many of them alleged that they were tortured in detention. Protesters must be allowed to take part in peaceful demonstrations without the fear of reprisal or attack".
The rights group said that Bahraini authorities failed to implement key recommendations made by the Bahraini Independent Commission of Inquiry (BICI) in 2011.
In 2013, Bahrain's King issued a draconian decree banning demonstrations, sit-ins and public gatherings in the capital Manama.