Online taxi-hailing start-up Uber is set for major expansion in China after raising $1.2bn (£780m; €1.1bn). The funding round attracted investment from Chinese search engine giant Baidu, but the US company did not name other investors.
The funding round values Uber China - the separate company set up by the San Francisco-based start-up for its Chinese operations - at $7bn, the Financial Times reported, citing a person familiar with the matter. The money will be used to beat local competition from Didi Kuaidi, which reportedly raised $3bn of its own in a recent cash-raising round. The paper said the funding round had not closed yet and Uber could raise more money.
Rising market share
At an event in Beijing, Uber chief executive Travis Kalanick said on 8 September that the start-up planned to enter 100 Chinese cities over the next year. "When we started this year, we were about 1% market share. Today, nine months later, we're looking at about 30 to 35% market share," he was quoted as saying by the Reuters agency. Uber currently operates in about 20 Chinese cities.
Kalanick also spoke about the importance of the company's tie-up with Baidu, which provides mapping and payment services to Uber in China, and welcomed new regulations governing ride-hailing services due later this year. "We can get introductions to the city governments, the government officials that want to shepherd our kind of innovation and our kind of progress into their cities," he said.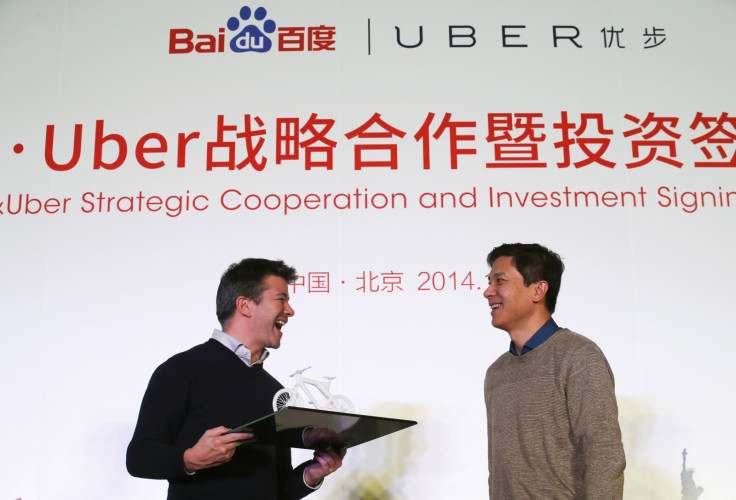 Uber has faced a string of setbacks in recent months, including the arrest of three employees in Hong Kong, and the levying of a $7.3m fine from a California court for not disclosing enough information about its operations to regulators. The firm is backed by the likes of Google, Microsoft, Goldman Sachs, Fidelity, BlackRock and Wellington Management, and is valued at about $50bn.