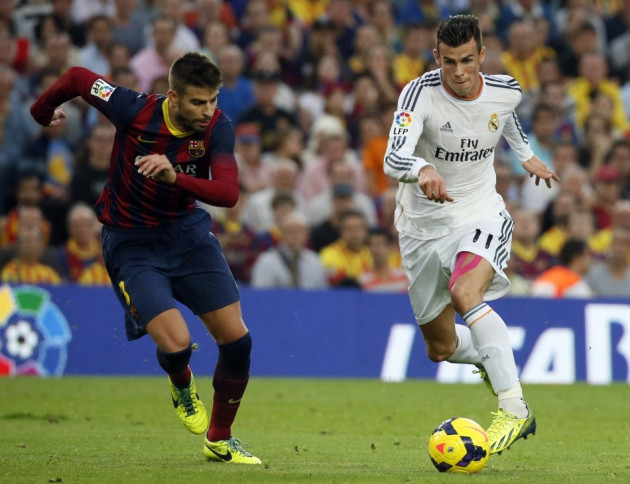 Gareth Bale may have completed his dream move this summer but his first few months at Real Madrid have been more of a nightmare. Injuries and a lack of fitness after a largely disrupted pre-season have led to a difficult beginning to his career at the Bernebeu.
On Saturday he was handed the chance to adhere himself to the fanatical Madrid faithful in one of the biggest games of the season. A first meeting against Barcelona at the Camp Nou was the perfect stage to make a lasting impression and go a small way to justifying his world record transfer.
Yet after 60 ineffectual minutes he was replaced by Karim Benzema much to the delight of the away support. In that time he had mustered just two shots, both of which were blazed over Victor Valdes's bar, picked up a yellow card and struggled to combine with his teammates.
The former Tottenham forward does not have a defined role in this side and it was clear to see that Carlo Ancelotti doesn't yet know how to get the best from his £86m man.
Comparison were made between Bale and a number of players in action and non were favourable. Barcelona's own marquee signing Neymar, who cost half as much as the Welshman, made the Clasico his own.
There were plenty of questions raised when Barcelona signed the Brazilian but his class was there for all to see in front of an ecstatic home crowd. He opened the scoring after just 19 minutes and was a constant threat with his direct and incisive runs.
While Bale started in a wide area like Neymar he was then brought into the now fashionable 'false nine' role but things did not improve. He never looked in tune with his teammates and Madrid supporters questioned why he was given the chance when out-and-out forward Karim Benzema was left on the bench.
The Frenchman made an instant impact when he replaced Bale as he thundered an effort into the bar, while academy graduate Jese Rodriguez came on to grab a late consolation goal which led to Madrid fans questioning just why they spent so much money of a player who has thus far looked out of his depth.
Spanish newspaper El Mundo Deportivo described Bale as 'irrelevant' while El Pais declared that 'team continue to play better when their star signing is not on the pitch'.
Madrid based newspaper Marca were equally damning in their assessement of the former Tottenham star.
"Real Madrid's worst performer at the Camp Nou was Gareth Bale. The Welshman was not match ready, does not have enough spark and a series of mistakes made by Real Madrid, the Welsh national team and the player himself hang heavily around his neck, hindering his progress."
At Tottenham Bale was the top performer and he knew his role within the side. At Madrid he has yet to convince his manager, or the supporters that he is deserving of a place in the starting XI.
Even Ancelotti admitted that it may take some time for him to adapt, saying: "I think he needs to find how to combine with his team-mates.
"Physically, he was fine - he just needs to look for more combinations. He needs to improve his movement and look for space but he was not bad in the one hour he played."
Fortunately Bale must only look as far as his former Tottenham colleague Luka Modric to see how you can win over the fans. The creative midfielder was panned for his early season performances last year but has since become a firm favourite amongst supporters.
Bale must strive to improve and gain an understanding with his teammates and only then he will have a chance of justifying his massive price tag.