Balkan Floods: Epidemic Warning as Receding Waters Leave Thousands of Carcasses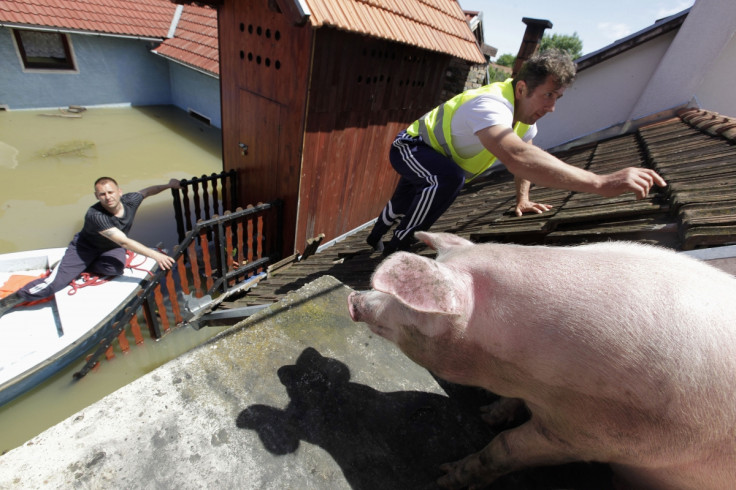 Rights groups and politicians have warned damage that followed the Balkans' worst floods in decades may exceed that caused by the 1992-1995 war.
Over 40 people died after the highest rainfall ever recorded in Bosnia and Serbia produced devastating floods and landslides. Cities in the north of the country such as Orasje , Brcko , Bijeljina and Odzak were completely flooded. More than 2,000 landslides have been recorded in the past few days in Bosnia, a large part of which still has mine fields.
One million people remain without drinking water and at least 230 schools have been destroyed. In Gracanica around 250 factories were completely flooded and ruined.
Bosnia's foreign minister Zlatko Lagumdzija called the destruction caused by the flood and landslides "immense". "After the war, people had nothing," he said. "Now they have nothing except bank loans they took to rebuild their homes" at the end of the 1990s war that killed at least 100,000 and displaced millions.
Sudba Bubi Music, whose house in the north-western Bosnian city of Prijedor was completely flooded, told IBTimes UK that water has finally receded but more problems was expected. "We need help to clean and rebuild. Who's going to help us to reconstruct so many houses that were destroyed by the floods?," he asked.
Bosnia and Serbia said they will need international help to rebuild after the disaster. EU and Nato officials are planning to visit the countries.The greatest danger comes from the tens of thousands of landmines planted during the 1992-1995 war. The floods toppled warning signs and dislodged the mines themselves.
"All the signs that indicated minefields have been swept away and destroyed, so no-one can say with certainty where the unexploded mines are today. All areas that were hitherto considered safe and cleared can be again considered potentially dangerous," the rights group Society of Threatened Peoples said in a statement. "People can easily activate mines when they result to clean the streets and the houses after the water has withdrawn."
Another major calamity in flood-hit Balkans are the carcasess of drowned animals. The receding flood waters revealed thousands of dead cows, pigs, sheep, dogs and other animals left behind. "There are tons of dead animals that we must dispose of," Serbian prime minister Aleksandar Vucic said.
In the northern Bosnian town of Samac nearly 400 dead cows were pulled by troops out of a barn and driven away on trucks. "Dead animals are a special problem and those have to be removed and destroyed properly," said Bosnia's chief epidemiologist, Dr. Zeljko Ler. Some 1,900 sheep and lambs died in just one area of central Serbia, according to AP.
The Society warned of the danger from the outbreak of epidemics. "The sudden rise of temperatures bring vast quantities of snakes, rats, flies, and mosquitos. Anthrax, Escherichia Coli, West Nile virus and other diseases are spreading rapidly in the country. In some parts of the affected areas scabies was already registered. "
© Copyright IBTimes 2023. All rights reserved.