Bosnia Floods: Serbs, Croats and Muslims Unite to Battle Deluge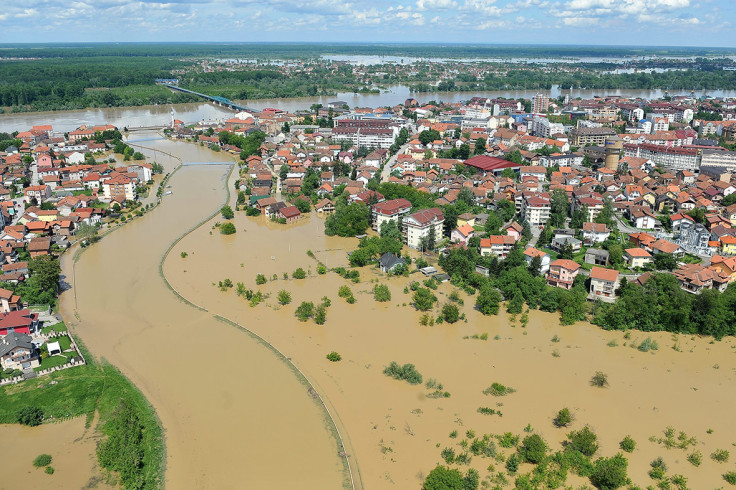 The worst floods ever to affect much of the Balkans have left at least 30 people dead in Bosnia and Herzegovina, leaving hundreds of thousands without homes and raising fears about the landmines planted during the country's 1992-1995 war.
The heavy rain that concentrated three months' worth of precipitation in three days also caused an estimated 2,100 landslides which covered roads, homes and whole villages throughout Bosnia.
The most critical situation was between Zenica and Zepce, Topcic Polje and Zeljezno Polje, where entire villages were swallowed by earth, according to rights group Society of Threatened Peoples.
The cities of Orasje and Brcko in northeast Bosnia, where the Sava River forms a natural border with Croatia, were in danger of being overwhelmed. Another matter of concern is the possible spread of diseases. "On the streets of many places lay carcassess of drowned animals. The houses and streets are full of mud and stranded objects," read a statement by the Society.
"It's horrific, nobody can remember anything like this," Sudba Bubi Music, whose house in the north-western Bosnian city of Prijedor was completely flooded, told IBT UK. Subda said that it is too early to have an accurate estimate of the victims and the damages but added that "too many were affected". He believes the autonomous Bosnia's Serb Republic is trying to conceal information to the public and playing down the disaster because of this year's elections.
However, he praised the efforts of the Bosnian people to bring aid and comfort to those affected. "People are helping each other and nobody is asking from which area or ethnicity they come from. It's amazing how this disaster brought people together, united to help each other," Subda said.
The Society claimed that a large proportion of the few functioning factories were completely destroyed, leaving many people jobless. "The entire crop is completely destroyed for this year. Whole farms with animals for slaughter are flooded and the cattle drowned," it said.
Nearly 120,000 of the unexploded land mines remain in more than 9,400 carefully marked minefields. But the floods toppled warning signs and dislodged the mines themselves. Experts have warned that mines could travel through half of southeast Europe or enter the turbines of a hydroelectric dam.
© Copyright IBTimes 2023. All rights reserved.