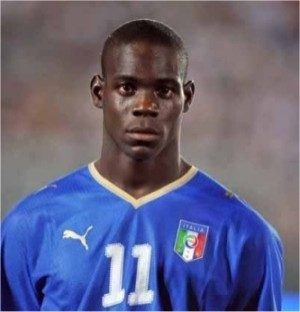 Manchester United striker Mario Balotelli's agent has hit out at UEFA President Michel Platini for his attitude to racism, where he had earlier said that any players walking off the pitch due to racism in the 2012 Euros would be shown the yellow card.
The 21-year-old striker was reportedly racially targeted during Italy's 1-1 draw against Spain in Gdansk. However, Balotelli instead of following his earlier plans of walking off the field, was forced to stay and endure the abuse. Due to this, his agent has heavily criticised Platini for the new rule.
"I have to say that the reaction of UEFA to what Mario said was very strange and I would have expected a different reaction. Mario has had this problem before and in Italy we have a saying: 'racism is ignorance,' Balotelli's agent Mino Raiola was quoted by The Guardian as saying.
"Mario is the kind of lad where this kind of abuse glides off his back. But I was very disappointed with what Michel Platini said and a lot of people are with me on that. I can't say I'm surprised by the reaction, though. I don't believe Platini has done anything to improve the game or help the position of players - as his reaction to Mario shows," The Daily Mail reported Raiola as saying.
Although the Italian Football Federation will not have an official complaint to UFEA, everyone, including the British camera crews clearly heard the Spanish fans shouting some monkey chants at Balotelli.
Raiola, praising the zero tolerance towards racism in the Premier League, says that England are far ahead than other nations in terms of dealing with racism.
"I have had some meetings with the English FA about dealing with racism and the FA have been very proactive. They are ahead of other countries in Europe," ESPN reported Raiola as saying.
Balotelli, who put up a good performance against Spain before being substituted by Udinese striker Antonio Di Natale, has been backed by Giancarlo Abete (Italian federation president) to put on another positive performance when Italy play against Croatia on Friday.
"Balotelli made his contribution but he must try to understand the reality of playing in a major international competition in which there is no forgiveness. He nevertheless put the Spanish defence under pressure. Balotelli will not allow himself to be disheartened," said Abete, according to a Sun report.