US president Barack Obama has vowed to defend Nato allies in eastern Europe after Baltic state governments voiced growing concerns that they could be in line for another Russian land-grab after it annexed Crimea.
"America's support for our Nato allies is unwavering," Obama said as he announced further sanctions targeting Russian officials.
"We're bound together by our profound Article 5 commitment to defend one another, and by a set of shared values that so many generations sacrificed for.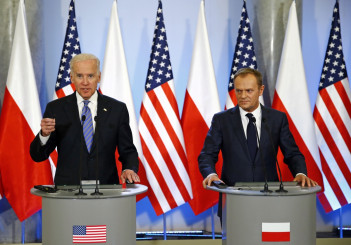 "We've already increased our support for our eastern European allies, and we will continue to strengthen Nato's collective defence," Obama added.
French defence minister Jean-Yves Le Drian said he would fly to the Baltic states - Lithuania, Latvia and Estonia -to discuss "how we can help their security efforts".
"That means stepping up airspace monitoring and reassuring them of Nato security guarantees because they are in a situation of fragility," Le Drian told BFMTV.
A chorus of anxiety has arisen from former Soviet republics on the Kremlin's justification for the takeover of the southern Ukrainian peninsula which it said was to protect Crimean Russians following the revolution in Kiev.
A Russian diplomat said that Moscow was preoccupied about the treatment reserved to Russian speakers living in Estonia.
Le Drian's visit to the Baltics comes after US vice-president Joe Biden told Estonia, Latvia, Lithuania and Poland that Nato was considering sending ground troops into the region for military drills.
"I want to make it clear: We stand resolutely with our Baltic allies in support of the Ukrainian people and against Russian aggression," Biden said during a two-day trip that took in Warsaw and Vilnius.
The US sent six extra F-15 fighter jets to step up Nato patrols in the area earlier this month.
Lithuanian president Dalia Grybauskaite said the jets were a sign that "Nato is responding promptly and fast".
"Russia today is dangerous. Russia today is unpredictable," Grybauskaite said.