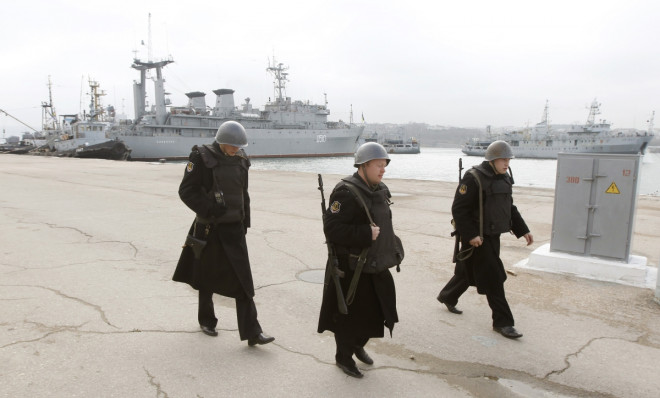 The head of Ukraine's Navy, who was captured as the Naval Headquarters in the Crimean port of Sevastopol were stormed by pro-Russian troops, has been released, according to officials in Kiev.
Ukraine's interim president Olexander Turchynov said the naval forces commander Serhiy Hayduk and other hostages, including the son of a Ukrainian lawmaker and former minister, were released overnight.
"Commander of the Naval Forces of Ukraine Serhiy Hayduk and civilian hostages who had been illegally seized by the Russian Armed Forces in Crimea have been liberated this night and are on the way to Kiev now," the president's office said.
Among those held captive was the son of Anatoliy Hrytsenko, who served as Ukraine's defence Minister from 2005 to 2007, the president said.
Hayduk was detained when 200 Crimean self-defence volunteers backed by armed men, believed to be Russian servicemen, raided Ukraine's naval base in the Black Sea port town.
A spokesman for the pro-Russian forces claimed Hayduk had been captured and taken away by the Russian Federal Security Service.
Turchynov later issued an ultimatum to the Russian-backed Crimean authorities to release all hostages or face the consequences.
The incident came one day after a Ukrainian serviceman was shot dead as another base was raided in the regional capital of Simferopol.
Kiev said it had begun drawing up plans to pull its troops from the southern peninsula and relocate them to the mainland and said it would seek UN support to turn the peninsula into a demilitarised zone.
Ukrainian troops in Crimea have been trapped inside their bases since pro-Russian forces took over the Black Sea peninsula after the revolution that toppled Kremlin-backed president Viktor Yanukovich in February.
Crimeans, a majority of whom are ethnic Russian, then held a disputed referendum to secede from Kiev and join Russia instead.
G-8 suspended
Meanwhile in Europe, German Chancellor Angela Merkel said the EU was readying further sanctions against Russia, after it formally annexed Crimea.
"The European Council will make it clear today and tomorrow that with a further deterioration of the situation we are always prepared to take level 3 measures, and those will without a doubt include economic sanctions," Merkel said.
The EU and the US have already implemented visa bans and an assets freeze against a number of Russians and Ukrainians over the crisis.
Merkel also said the G-8 forum of leading economies, which includes Russia, had been suspended indefinitely.
"So long as there aren't the political circumstances, like now, for an important format like the G-8, then there is no G-8," Merkel said. "Neither the summit, nor the format."