The US Department of Justice is to probe the activities of the Baltimore Police Department to determine if officers have engaged in a "pattern or practice" of excessive force.
The decision by Attorney General Loretta Lynch could be announced before 8 May, sources told the Washington Post.
The probe comes after six Baltimore officers were charged with involvement in the death of Freddie Gray, 25, in police custody. Baltimore State Attorney Marilyn Mosby, who filed charges against the police, alleged Gray was illegally arrested and was treated roughly by officers who ignored his pleas for help after he suffered a fatal injury in the back of a police van.
Gray's death sparked days of protests and riots in the most recent outrage over law enforcement treatment of minorities in cities across America.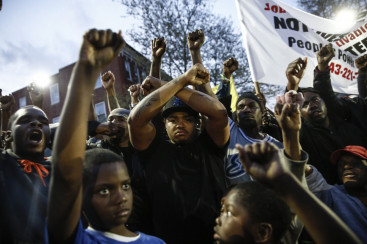 The new Justice Department probe would be separate from a continuing federal investigation into Gray's death, according to USA Today.
Baltimore Mayor Stephanie Rawlings-Blake called on the Justice Department this week to step in. "We all know that Baltimore continues to have a fractured relationship between the police and the community," said the Democratic mayor when she asked for federal help. "I needed to look for any and all resources I could bring to my city to get this right for my community."
Lynch travelled to Baltimore earlier this week and met the mayor and Gray's family.
Baltimore Police Commissioner Anthony Batts said he welcomed a federal probe, saying it would vindicate the force. "We could use the extra weight," he told WBAL-TV. "Lawsuits are down. Citizen complaints are down. Officer involved shootings are down. But the community doesn't feel it."
Justice officials are already investigating police department in Ferguson, Missouri, where unarmed African American Michael Brown was shot dead by a white police officer, and in Cleveland, Ohio, where 12-year-old Tamir Rice was killed by an officer.