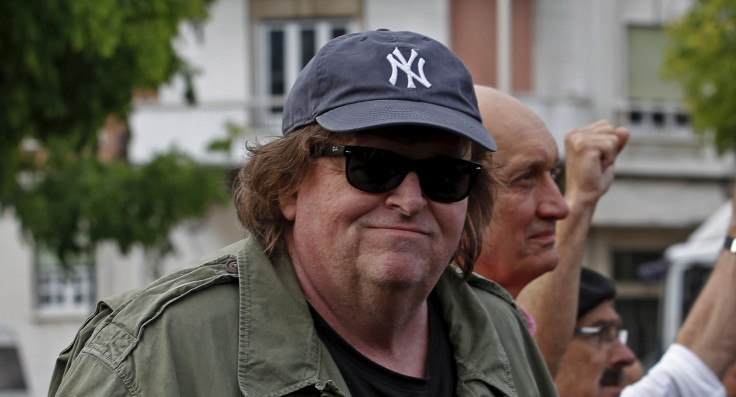 US filmmaker Michael Moore has announced his strategy for stopping white police officers killing African-Americans: take guns away from the police and release all non-violent black inmates from US prisons.
"Disarm the police," a Moore tweeted. "We have a quarter-billion Second Amendment guns in our homes for protection. We'll survive 'til the right cops are hired."
The outspoken director of the documentaries Bowling for Columbine, Sicko and Capitalism: A Love Story, released a string of tweets responding to the protests over the death of Freddie Gray, while in the custody of Baltimore police officers, and a number of other black men who died in police custody.
Six police officers will face charges over the death of Gray, 25, who suffered a fatal neck injury when he struck a protruding bolt in a police van.
It is suspected that Gray may have been the victim of a "rough ride". This involves police officers handcuffing and shackling detainees in the back of a van, but not securing them to a seat with seatbelts, before beginning a careening trip to jail, causing the victim to be slammed against the van's walls.
"I want every African-American currently incarcerated for drug 'crimes' or nonviolent offenses released from prison today," Moore also tweeted, then added: "And the rest who are imprisoned — I don't believe 50% of them did what they're accused of. Lies. Greed. A modern-day slave system. Poor whites, too."
In a last needle to American police, Moore tweeted: "Local cops now militarized. Founding Fathers said no army policing on our soil. Why do cops have tanks? Oh, right — the Enemy: The Black Man."
Moore has a long history of butting heads with supporters of the gun rights activists and the National Rifle Association. Bowling for Columbine links the problem of US mass killings and a sky-high homicide rate to the number of guns owned in the nation.
Milwaukee Sheriff David Clark Jr., who has been hailed as the NRA's "favorite sheriff", suggested beginning the disarm-a-cop program in Moore's neighborhood, and then setting up transitional housing there for the inmates Moore wants to be freed.
On TV's Fox & Friends, self-described "Conservative Black Chick" Crystal Wright said she would like to "helicopter" Moore into Baltimore "drop you into the city with no armed cops, and see how long you would survive without a gun".