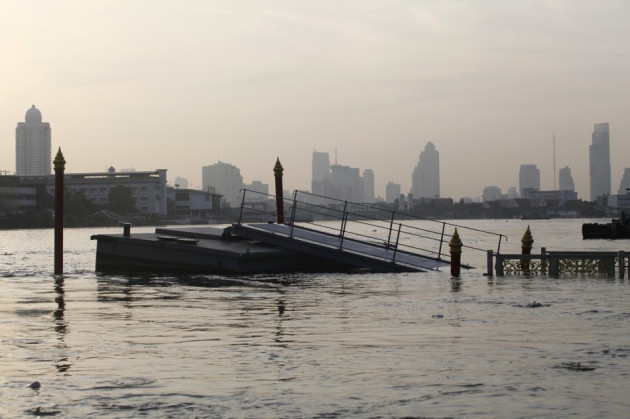 Thousands of Bangkok residents are evacuating the city after the Thai prime minister warned the capital could face potentially severe flooding over the weekend.
The central government has ordered residents in three districts to leave the city after a naval officer warned the main river is expected to overwhelm dikes protecting the capital Saturday.
Thailand's worst flooding in 50 years has killed over 350 people and caused flash floods, mudslides and widespread disruption across the country. Unseasonably heavy rains have killed hundreds more in neighbouring Cambodia and Burma.
A five-day holiday was announced in Bangkok Tuesday to give residents a chance to flee the rising waters.
"It seems like we're fighting against the forces of nature, massive floodwater that is causing damage to several of our dikes," said Prime Minister Yingluck Shinawatra.
"The truth is, we need to let it flow naturally out to the sea, and what we can do now is to manage it, so that it slows slowly, otherwise everybody will suffer."
Many Bangkok residents were heading to the coast Thursday, as the city's Mo Chit bus terminal was inundated with crowds escaping the rising waters.
"We're heading off to Hua Hin because people said it'll be difficult, we should leave," resident Pronchai Tangsuwongthai told Reuters TV.
"We plan to stay for at least three days and will monitor the situation. If it gets worse, we won't come back."
The UK Foreign Office has advised Britons to avoid all but essential travel to Bangkok and the surrounding flood-hit areas.
Flights out of the international airport, Suvarnabhumi, were operating as normal but the city's domestic airport, Don Muang, was forced to close after the runway flooded.
The defence ministry said 50,000 armed forces personnel were on standby, with 1,000 boats and 1,000 trucks on hand to help the evacuation.
"This is the first time I am using the term 'evacuation', the first time I'm really asking you to leave," said Bangkok's Governor Sukhumbhand Paribatra in a televised statement.
"Today Sai Mai [a district in the north of the city] is getting worse. By lunchtime, Bangkok will announce the evacuation of people ni the area, as we did with Don Muang and Bang Phlad yesterday," he added.