The wife of a senior police officer in Bangladesh has been murdered in cold blood in front of her six-year-old son, reportedly as a result of her husband's ongoing investigations into a domestic Islamic terror group. Mahmuda Aktar, wife of superintendent Babul Aktar, was attacked and killed in Chittagong on Sunday, 5 June. Reports reveal she was stabbed multiple times before being shot in the head while dropping her first-grader son at a school bus stop.
Police spokesman Iqbal Bahar said three men are believed to have orchestrated the brutal attack. "She came out of her apartment to put her son on the school bus [when] suddenly three people on a bike came close to her," he said in a statement.
"First, they stabbed her and later they shot her. She died immediately. As Babul Aktar was involved in working against the militants we will investigate whether the militants carried out this operation."
Babul Aktar is currently investigating a banned Islamic terror group known as Jamayetul Mujahideen Bangladesh (JMB), which routinely attack those who do not conform to their member's strict religious stance. In the past, it has targeted secular bloggers, university professors and gay rights activists, the BBC reports.
According to BDNews, Aktar has launched a number of successful raids on JMB hideouts and has investigated several terror-related cases. He was reportedly instrumental in the arrest of the group's 'military chief' Mohammed Javed in October last year.
The Bangladesh home minister, Asaduzzaman Khan Kamal, said the killing was likely carried out to intimidate police officers. "Militants have adopted this strategy – to take on soft targets like families of police officers – because they have been cornered," he said, adding that the government is now considering ways to better protect the families of cops in the country.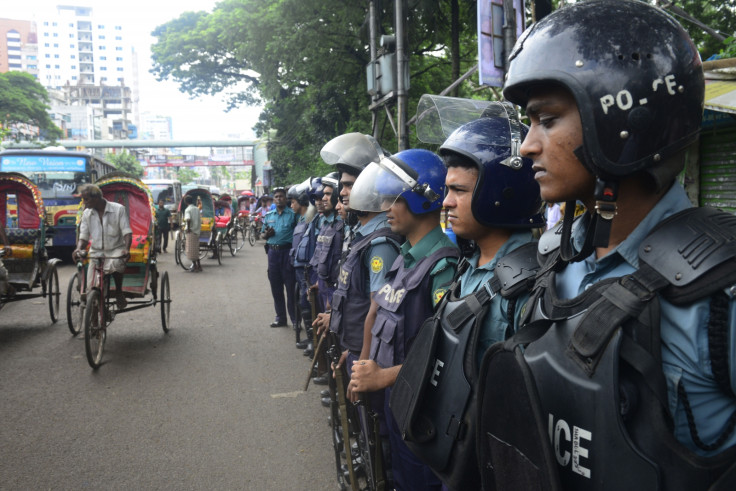 In a separate – but just as ruthless – attack, a 65-year-old Christian grocer was hacked to death in north-west Bangladesh by a group of unidentified men. The murder occurred close to a church in a village called Bonpara however the motive remains unclear.
Terror group Islamic State (Isis), also known as Daesh, has claimed responsibility for a number of recent murders in the country however authorities deny the terror group has any significant presence in the region.