Bangladesh won't seek US help over Rohinga crisis given Donald Trump's stance on refugees
Bangladesh Prime Minister Sheikh Hasina said Trump 'already declared his mind' about refugees.
Bangladesh Prime Minister Sheikh Hasina said she is not willing to seek help from the US to handle the Rohingya crisis as the ethnic minority community floods into her country from Myanmar. Considering President Donald Trump has made his stance on refugees very clear in the past, it was not worth asking him for help, she said.
When the two leaders met for a brief conversation after an event Trump hosted at the United Nations in New York on Monday (18 September), the Republican reportedly did not enquire about the refugee crisis.
"He just asked how is Bangladesh? I said 'it's doing very well, but the only problem that we have is the refugees from Myanmar'," Hasina told Reuters. "But he didn't make any comment about refugees."
More than 410,000 Rohingya Muslims have fled to Bangladesh since 25 August. The mass exodus comes after a military offensive in the restive Rakhine state in Myanmar. The refugees are seeking shelter in already overcrowded camps in Bangladesh's border town, Cox Bazar.
Despite the struggle to accommodate more refugees, Hasina said she would not seek help from the US.
"Actually we don't expect anything from anybody. They [Rohingya] are our neighbour, these distressed people just came to us, we are trying to help them," Hasina told the news agency.
"Already America declared that they will not allow any refugees from Middle East, Gulf countries and many areas.
"What I can expect from them, and especially (the) president. He ... so why I should ask?
Hasina's comments came on the heels of reports that Rohingya refugees are in dire straits with insufficient food, water, shelter and medical care.
"If he doesn't feel that these people are distressed people, they are living in distress, they need assistance... if he doesn't feel, then I cannot ask any assistance," she added.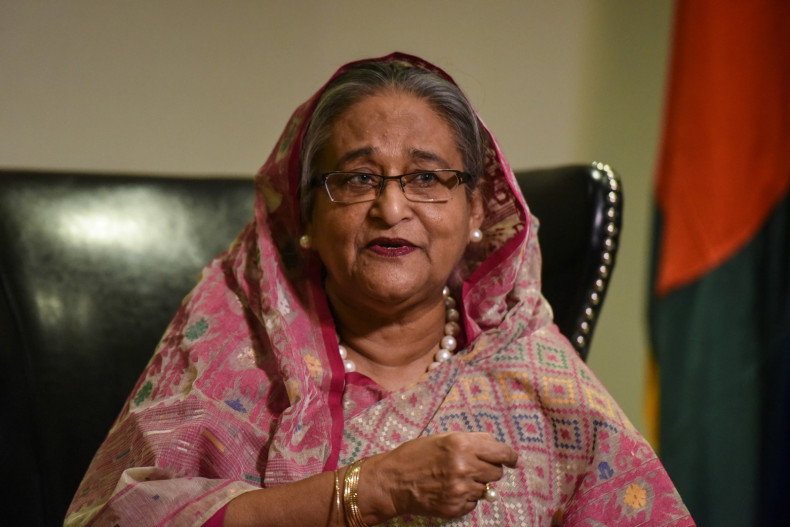 "Yes, Bangladesh is not a rich country, it is true ... But if we can feed 160 million people, another 500 or 700,000 people, we can do it."
However, a senior White House official, who was unaware of the conversation between Trump and Hasina, said the Republican was deeply interested in the ongoing crisis and that "he would definitely engage if it were brought up".
Since he took office in January, Trump has spoken against accommodating refugees in the US. Shortly after his inauguration, he tried to put a 120-day halt on the refugee programme in the country by banning Syrians from entering the country indefinitely. The controversial travel ban and strict border control also included a 90-day suspension on people from Iraq, Iran, Yemen, Sudan, Somalia and Libya from entering the US.
Hasina also said she wanted to see more international political pressure on Myanmar so that it allows the Rohingya to return to their homeland.
"[Myanmar leader Aung San Suu Kyi] should agree that these people belong to her country and that Myanmar is their country. They should take them back. These people are suffering," she told Reuters.