Toddler and elderly Rohingya refugee crushed to death by wild elephants in Bangladesh
The wild elephants rampaged through a forested area where the man and the toddler were sleeping underneath a plastic tent.
An elderly person and a toddler, both Rohingya refugees, were killed when wild elephants rampaged through a forested area where they had taken refuge in Bangladesh after fleeing neighbouring Myanmar.
The victims were among more than 410,000 refugees who fled a military offensive in restive Rakhine state and sought shelter in Bangladesh's border town.
The incident took place on the outskirts of Kutupalong refugee camp in Cox's Bazar district on early Monday, 18 September, as the man and the toddler slept underneath a plastic tent near a forest area.
"There are elephants in the forest, close to the place where many Rohingya refugees are clearing forest to make huts," police official Chailau Murma told Reuters.
According to the news agency, the elephants disappeared into the forest after the rampage.
Three others are also reported to have suffered injuries and have been taken to hospital, according to a refugee camp leader.
The victims who died are thought to have been new arrivals at the refugee camp.
The newly-arrived refugees are reported to have been huddling in makeshift shelters along roadsides or camping in the open.
The incident came on the heels of reports that Rohingya refugees are facing dire conditions with insufficient food, water, shelter and medical care.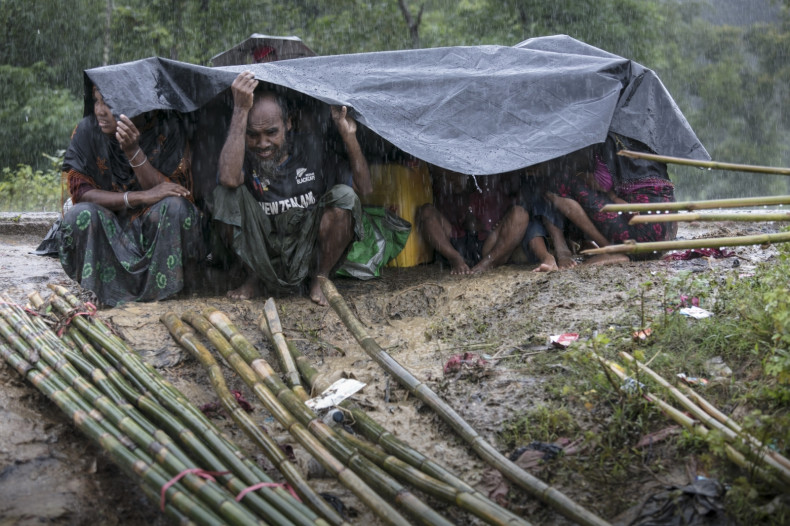 Earlier on Friday (15 September), two children and a woman were killed in a stampede for aid outside a camp as food and clothing were being thrown from relief trucks.
"Two children and one woman were killed in a stampede during an unauthorised clothing distribution on the road in Balukhali Pan Bazar area," a report prepared by a group of UN agencies and two charities said.
"Despite local regulations and the control room established, private distributions of relief items continue," it said, as cited by AFP news agency. The report also underscored the chaotic aid management that has drawn criticism from rights workers.
As more and more people flee Myanmar, spaces at established refugee camps in Bangladesh are already packed beyond capacity.
The mass exodus of the ethnic minority community follows the Myanmar army's deadly response to an attack at military posts by Rohingya insurgents. While the government forces called it a "clearance operation" to eliminate any fighters it said might be hiding in the villages in Rakhine, the UN has accused the government of "ethnic cleansing".