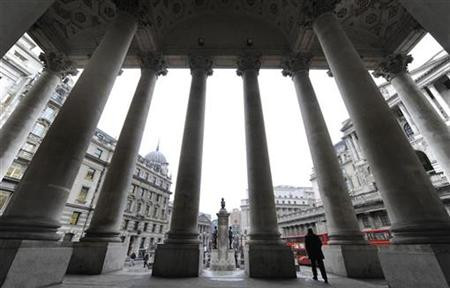 The Bank of England has told its banks to cut bonuses and reduce dividends to provide for a 'considerable' risk in the Eurozone.
"This would require banks to double their efforts to contain discretionary distributions to shareholders and staff," the Bank said in its 'Financial Stability' report, "The benefits of more concerted action are potentially considerable."
It estimated that for every £10 million saved, around £50bn of lending could be sustained in order to help homeowners who are most at risk to interest rate rises - and thus home repossession.
Speaking in its twice yearly report the Bank of England warned of the 'task' facing the financial sector as it must go through an 'extended transition' towards reforming itself.
However, Mervyn King, and the Bank of England warned that a rush to introduce new rules - such as the "Basel" rules - may have the effect of weakening the banks before they can recover.
Banks are required to go through a capital raising process too soon, may kill off the recovery, the BoE warned.
INFLATION RISKS
The news comes following a report that Inflation fell from its seventeen month high.
Inflation, which is currently down from 3.7 to 3.4 is a major 'consideration' for the Monetary Policy committee who are supposed to keep it in within 2 pct targets, and earlier this week it emerged that 1 of the 8 voted in favour of rising interest rates recently.
Andrew Sentence, well known 'uber-hawk' voted in favour of a 0.25 pct interest rates rise.