A British banker trying to get home to Essex boarded the wrong plane and ended up in Las Vegas – despite claiming that airline staff had checked his boarding pass three times.
Finance broker Samuel Jankowsky, 29, was booked on to a Eurowings flight to Stansted following a day of meetings in Cologne, Germany.
He took an hour-long nap on the plane and woke up to see on the in-flight entertainment system's journey tracker that it had flown past the UK.
He Whatsapped his wife, Monique, 25, who is seven months pregnant with their third child. She made a distraught phone call to the airline to complain, before Jankowsky landed at McCarran International Airport, Las Vegas, almost 8,500 miles away from his intended destination.
When he landed in the US he claims he was treated as "a common criminal" by immigration officials who he said threatened to detain him for not having a visa.
He eventually flew back to Cologne – but said he was banned by the German budget airline so instead had to travel to Stuttgart airport for a flight to England.
It took Jankowsky two days and an extra £800 to get home. In total he travelled over 17,000 miles, even though Cologne is just 308 miles away from London.
Jankowsky, from Basildon, Essex, said: "When I got on the plane I did think it was a big plane for a short flight, but I didn't worry about it.
"I put on my headphones and went to sleep. When I woke up I saw that we had passed the UK.
"I asked the person next to me what was going on and he said: 'We're flying to Vegas'.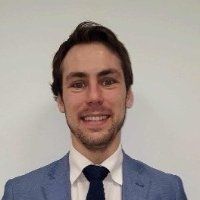 "I said: 'Oh f***! Can we turn the plane around?' I didn't even know Eurowings flew to Las Vegas," he added.
In Las Vegas Jankowsky said he did not receive a sympathetic hearing from immigration officials, who threatened to detain him.
He said: "I was treated like a person who tried to enter the US without a visa. The official said we had an hour to do the paperwork to put me on a flight back to Cologne.
"If I missed the flight, I'd be detained until Tuesday [a further four days] when there was another Eurowings flight. They even put me in a little cell and completely searched me. I was supervised the whole time I was there."
Jankowsky has hit out at the carrier for allowing him to board the wrong flight.
"How could I have boarded the aircraft without a valid boarding pass for that flight? Staff checked my boarding pass three times. It shows the ineptitude of Eurowings staff. This is a major security failing."
He arrived at Stansted on July 2 – two days later than his intended arrival date.
Eurowings blamed "an error by a service provider's employee", adding that "at no time was there any safety risk".