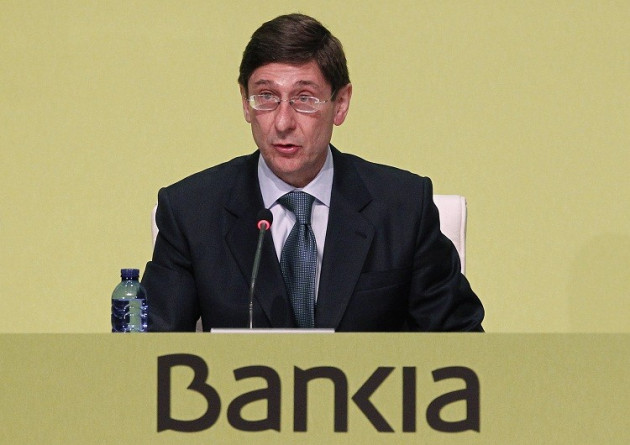 Bankia, Spain's largest nationalised bank, posted a better-than-expected net profit, as the Spanish banking sector works hard to heal itself despite ongoing weakness in the domestic economy.
The state-backed bank said its net profit hit €362m (£308.6m, $500m) during the nine months to the end of September, having posted a painful €19.2bn loss the year before off the back of Spain's collapsed real estate market. It has hived off much of its toxic assets into Spain's nationalised "bad bank".
However, Bankia also reported a fall in net interest income of 29% to €1.73bn during the same period. This represents loan earnings after the deduction of costs.
Credit conditions remain tight for Spanish business and consumers, who have been hit by sluggish output growth and high unemployment. Low interest rates have also eroded banks' margins.
Bankia was formed in 2010 as a congolmerate of seven of the country's regional banks which were facing the threat of bankruptcy. In 2012, the Spainish government was forced to bail it out after it nearly collapsed, leaving Spain's taxpayers with a 45% stake.
Spanish Economy
Spain's outlook, along with many other Western economies, is looking up. The country exited a two year recession in the third quarter after it scraped 0.1% GDP growth.
Prime Minister Mariano Rajoy was upbeat regarding the end of the recession, but cautioned that a recovery will be "slow and gradual".
In September, Spain's public debt hit a new high of 92.2% of GDP at €942.8bn. Its unemployment rate remains stubbornly high at 26.9%.
However, the banking sector is showing signs of improvement. Spain's landers had suffered badly from the 2008 property asset collapse, having been tied up in the financing of the real estate boom beforehand.
In August 2012, Spanish banks borrowed €411bn from the European Central Bank (ECB) to maintain liquidity. The country's banks have reduced their borrowing from the ECB for 12 consecutive months, drawing down just €249bn in August.
The International Monetary Fund (IMF) has hailed the "strong progress" of Spain's economic reforms through fiscal tightening, the relaxing of labour market laws, and cleaning up the banking system.
"Strong reform progress is helping stabilise the economy and external and fiscal imbalances are correcting rapidly. But unemployment remains unacceptably high and the outlook difficult. This calls for urgent action to generate growth and jobs, both by Spain and Europe," said the IMF's concluding statement after its visit to Madrid.