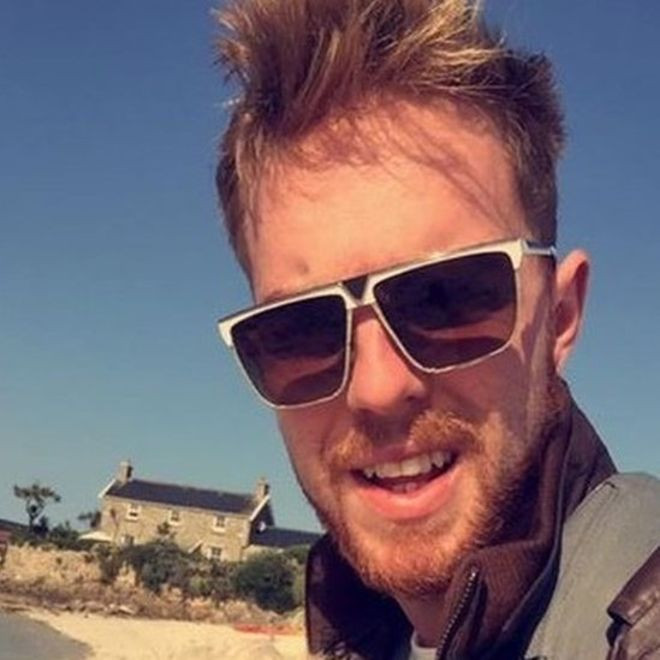 The body of Josh Clayton, a bar manager from Taunton, found washed up on an island may have been pushed into the water, an inquest jury heard. Clayton was reported missing on 13 September 2015, before his body was found on Tean, one of the Isles of Scilly.
A blood stain on his T-shirt may have been the result of an assault before he died, said Tom Leeper, the family's barrister. It was "possible" that Clayton had been pushed into the sea, he added.
Pathologist Russell Delaney said that no analysis had been conducted on the T-shirt, which had been subjected only to a visual examination.
On the evening of his disappearance, the 23-year-old bar manager was at a party during which a brawl broke out. One party guest had to be restrained, but it is not believed that Clayton was involved.
It was reported that Clayton had been drinking and one person at the party said he was "smashed". Toxicology tests showed he was at least 2.5 times above the legal drink-drive limit. However, his friends say he was his normal self and capable of conducting a conversation.
In the early hours of the morning, Clayton attempted to drive away from the party in a golf buggy. But he was prevented from doing this by a young woman who said she would walk home with him.
However, when she returned to find him a few minutes later, Clayton had disappeared, leaving behind his phone charger and cigarettes.
When the bar manager did not turn up for his shift later, a search was instigated, and his body was found by a French yachtsman on another island almost two weeks later.
The pathologist said that Clayton had been in the water for "a number of days", while his wallet, credit cards and driving licence were still in his pockets, according to a Mirror report.
Delaney said: "There were no injuries to show he had been violently assaulted prior to his death. There were no major traumatic injuries." He added that the cause of death was "unascertained".
The inquest in Plymouth heard that it was possible Clayton had tripped and fallen into the sea, or had been lying on the beach and been washed out by the waves. The coroner said he had come across cases where people had been "intoxicated lying on a beach and were taken away by the incoming tide".