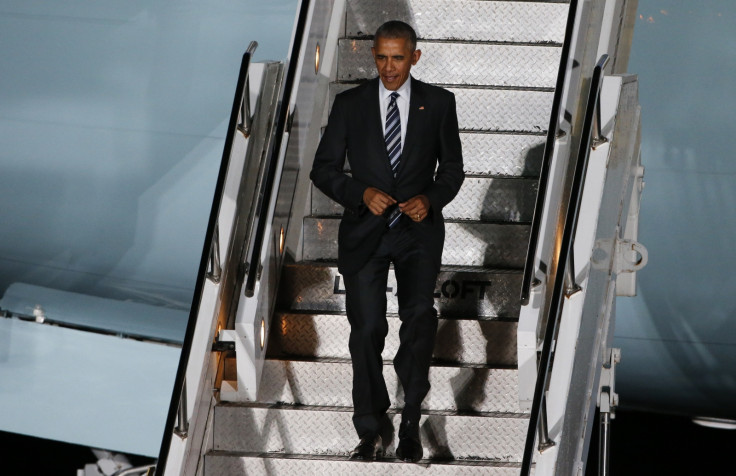 US President Barack Obama landed in Berlin on Wednesday (16 November) to meet one of his closest and formidable geopolitical allies, German Chancellor Angela Merkel. The two leaders held discussions on extending more sanctions on Russia and spoke about President-elect Donald Trump.
Obama is on the final leg of his Europe trip, which will be his last as president. During the tour, the 55-year-old called for a "course correction" on globalisation. His Berlin visit will last until 18 November and he is expected to meet other EU leaders as well. Merkel hosted a dinner for Obama on Wednesday and is expected to hold lengthy bilateral talks on Thursday.
The burgeoning Syrian conflict is also expected to feature in Obama's discussions with Merkel later in the day and will be followed by a joint press conference. The American president had previously described Merkel as his "closest international partner" and a "trusted partner" during their terms in their respective offices.
In an article jointly written by the duo for German business magazine Wirtschaftswoche, they said: "There will be no return to a world before globalisation. We owe it to our companies and our citizens, indeed to the entire world community, to broaden and deepen our cooperation."
Europe, particularly Germany, the continent's biggest economy, has been desperately looking for hints on possible changes in the US' foreign policy under Trump, who had continually attacked free trade agreements during his election campaign. Trump also sent warning signals to Nato that Washington would not hesitate to pull back its support to the transatlantic alliance.
Shortly ahead of landing in Berlin, Obama attempted to calm fears prevailing in the EU when he said in Athens: "In recent years we made historic investments in Nato, increased America's presence in Europe and today's Nato, the world's greatest alliance, is as strong and as ready as it has ever been."
"And I am confident that just as America's commitment to the transatlantic alliance has endured for seven decades, whether it's been under a Democratic or a Republican administration, that commitment will continue, including our pledge and our treaty obligation to defend every ally."
There are also concerns that Trump's presidency would witness rapprochement with Russia resulting in the lifting of sanctions, imposed by Washington and Brussels, against Moscow. The EU sanctions are set to expire in January 2017.