Former US president Barack Obama looked like he was having the time of his life while he was on vacation recently with billionaire Richard Branson in the Caribbean.
From the time Obama left office on 20 January, he has been on vacation with his wife Michelle Obama in Palm Springs, California, and then on Branson's Necker Island.
On Tuesday, (7 February), the Virgin founder wrote on his blog that Obama spent two days learning how to stay afloat and kite surf. "It was a huge honour to be able to invite President Barack and Michelle Obama down to the British Virgin Islands for a complete break after Barack finished his second term as President and the family left the White House."
Branson recounted "One of the first stories Barack told me when he and Michelle arrived on Moskito Island was how, just before he became President, he had been surfing on a dangerous break in Hawaii."
The businessman said that he and the former president challenged each other to see if Obama could learn to kite surf before Branson learned how to foil board.
"As you can see in the video, Barack and I both fell many times, but we kept trying again and again and made progress over the days."
"We were neck and neck until the last run on the last day, when I got up on the foilboard and screamed along for over 50 meters, three feet above the water," Branson wrote. "I was feeling very pleased with myself, only to look over and see Barack go 100 meters on his kiteboard! I had to doff my cap to him and celebrate his victory."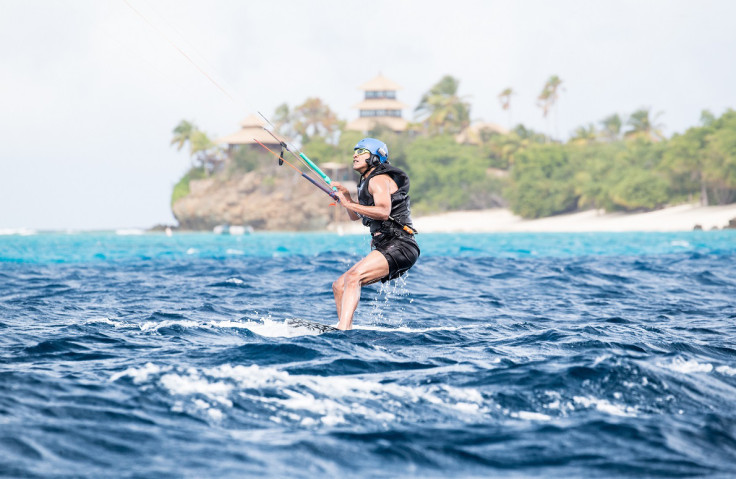 He added: "After all he has done for the world, I couldn't begrudge him his well-deserved win".
The former president and first lady have returned to Washington DC, where they are renting a home just two miles from the White House, until their daughter Sasha Obama finishes high school.