US president Barack Obama has engaged on Facebook with a Syrian refugee who featured on the popular Humans of New York (HONY) page, telling him "You're part of what makes America great".
Obama's post was the end of a long thread in which the unnamed Syrian man, a scientist and inventor who holds a PhD and currently lives in Istanbul, recounts his horrible ordeal during the civil war and difficulties found in Turkey after his family's escape.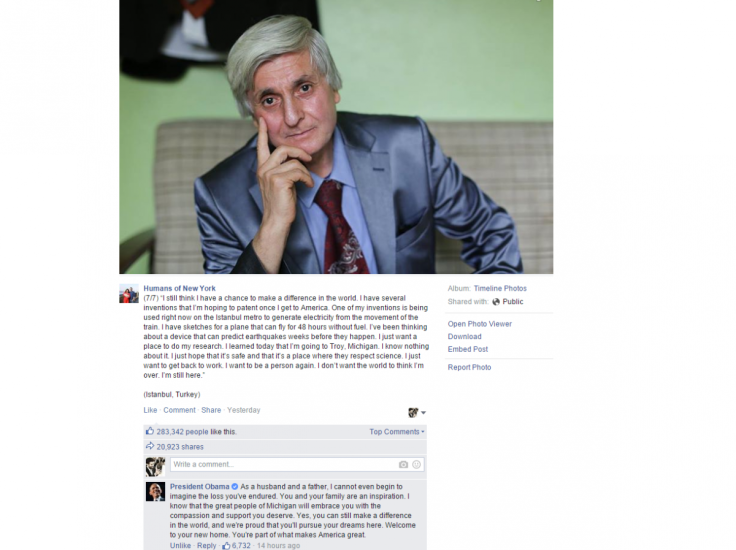 He tells how a missile destroyed the top floor of the house he built for his family killing his wife and a daughter. He left for Turkey with his surviving daughter and son but there he is not allowed to work without a residence permit nor his children can go to school. In order to survive, the man has to create designs and give them away with no credits and lower pay.
Diagnosed with stomach cancer, the man says: "I learned today that I'm going to Troy, Michigan."
"I still think I have a chance to make a difference in the world. I have several inventions that I'm hoping to patent once I get to America," he continues. "I just want a place to do my research. I just hope that it's safe and that it's a place where they respect science. I just want to get back to work. I want to be a person again. I don't want the world to think I'm over. I'm still here."
Obama replied:
As a husband and a father, I cannot even begin to imagine the loss you've endured. You and your family are an inspiration. I know that the great people of Michigan will embrace you with the compassion and support you deserve. Yes, you can still make a difference in the world, and we're proud that you'll pursue your dreams here. Welcome to your new home. You're part of what makes America great.
The last line, in particular, seems a direct scolding of Donald Trump's presidential campaign slogan "Make America great again". The Republican hopeful and real estate tycoon has come under fire for proposing a ban on all Muslims from travelling to the US.
Many people from the Michigan town commented on the HONY's post to offer help and support to the Syrian refugee. One said: "I live in Troy, Michigan and am going to be a PhD student in the sciences next year. I am currently doing cancer research at one of the largest hospitals in the state. We welcome you with open arms, both we the people, and we the scientific community. We look forward to your great mind that we can learn from."
"Brandon, my family is less than 20 minutes from Troy! My dad is from Egypt, is a teacher and speaks Arabic fluently," said another.
HONY is a wildly popular blog and bestselling book featuring street portraits and interviews collected on the streets of New York City. The founder and photographer, Brandon Stanton, has just returned from Turkey and Jordan to share the stories of Syrian families who will be resettling in the US.