US President Barack Obama has warned White House contenders to avoid raising tensions after a Donald Trump rally was called off after fighting broke out between protestors and Republican supporters. Obama said candidates should not resort to "insults" and "certainly not violence against other Americans".
The current US president was speaking at a Democratic Party fundraiser in Dallas on Saturday. "This is not about political correctness," Obama said, according to CBS News. "It's about not having to explain to our kids why our politics sounds like a schoolyard fight. We shouldn't be afraid to take them to rallies or let them watch debates. They watch the way we conduct ourselves. They learn from us. And we should be teaching them something about this democracy as a vibrant and precious thing."
"We should be teaching them how to disagree without being disagreeable and how to engage and how to analyze facts… And how to be honest and truthful. And admit if you make a mistake. And teach them that politics at its best is about a battle of ideas and resolving our differences without encouraging or resorting to violence."
Texas Senator Cruz has accused his Republican rival of creating "an environment that only encourages this sort of nasty discourse", according to a BBC report.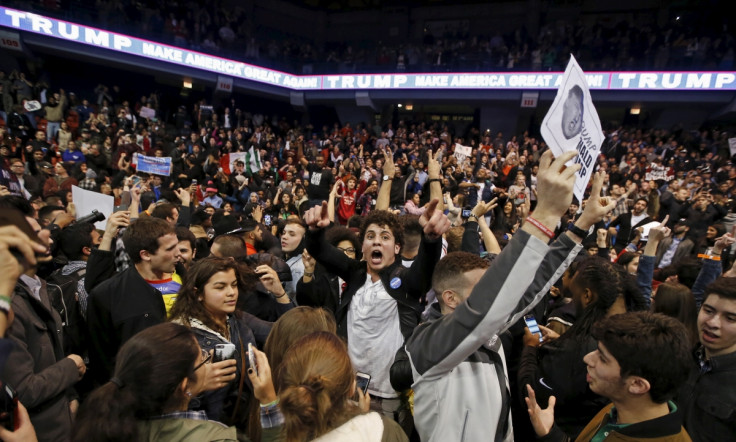 Speaking to Fox News after Friday's events in Chicago, Trump denied inciting conflict. Commenting on relations between Muslims and the US earlier this week, he said: "Islam hates us."
Delegate Count
Republicans
1,237 delegates needed for nomination. 1,401 available.

Trump: 460

Ted Cruz: 370

Marco Rubio: 163

John Kasich: 63
Democrats
2,383 delegates needed for nomination. 2,958 available.

Hillary Clinton: 1,231

Bernie Saunders: 576
In the Democratic race, Hillary Clinton won the first-ever Democrats' vote in the Northern Mariana Islands.
At an event in Cleveland, Ohio on Saturday, she said: "The ugly, divisive rhetoric from Donald Trump and the encouragement of violence and aggression is not only wrong, but dangerous," Clinton said. "If you play with matches you can start a fire you can't control. That is not leadership, that is political arson and the test – the test of leadership and citizenship is the exact opposite."
"If you see bigotry, oppose it. If you see violence, condemn it, if you see a bully, stand up to him," she added.
Trump's two failures
Trump's campaign suffered a setback with two defeats in Republican caucuses in Washington DC and Wyoming, yesterday.
According to AP, Trump only took 13.8% of the vote in Washington DC, which meant he failed to earn any of the 29 delegates on offer. Marco Rubio won in the US capital, taking 37.3% of the vote and 10 delegates.
In Wyoming, Ted Cruz took 66.3% of the vote and 9 delegates, while Trump only managed 7.2% of the vote and adding one delegate to his total.
On Saturday 12 March, Trump was campaigning Dayton, Ohio, where he was briefly surrounded by Secret Service agents on stage after a man tried to breach the security cordon. A video of the event shows Trump seemingly panicking before being surrounded by the federal bodyguards.