Donald Trump has refused to take responsibility for a clash between his supporters and anti-Trump protesters in Chicago – despite telling fans to 'knock the crap' out of campaigners little over a month ago. A rally was due to be held for the billionaire property mogul at a packed-out University of Illinois arena on 11 March.
But Trump and his team decided to cancel the event after several hundred demonstrators holding placards and shouting slogans attended the event, leading to fights between them and backers of the Republican front-runner. Several clashes were reported outside the arena as police struggled to contain the crowds, in which two Chicago Police Department officers injured in the resulting violence.
The melee broke out as the cancellation was announced to the crowd, with campaigners yelling, "We stopped Trump." Afterwards the billionaire said that he had "no regrets" about previously saying he would pay the legal fees of any supporter who "knocked out" a protester.
Shrugging off any responsibility the 69-year-old told MSNBC: "I certainly don't incite violence. If a protester is swinging a fist at a man or a group of men, and if they end up going back. I'm not looking to do him any favours."
Trump was latterly asked on CNN whether he regretted making his outlandish comments at previous rallies. He said: "No, I don't regret it at all. Overall I think we've been very mild with protesters."
On 1 February the brash property mogul told supporters to "knock the crap" out of protesters at a rally in Iowa. And on 22 February, when making a speech in Las Vegas, he told the crowd he would like to "punch a man in the face" after he was interrupted.
During another toxic rally violence on Wednesday, a 78-year-old white man in a cowboy hat punched a black protester in the face in North Carolina. As a protestor was being escorted out, John McGraw hit out saying that "we might have to kill him" before being charged with assault, battery and disorderly conduct.
During that rally, Trump told the crowd that protestors could be treated "very, very rough" during the "good old days".
Trump is scheduled to hold a rally today (Saturday 12 March) in Cleveland, Ohio, as he continues his bid to lock horns against Hilary Clinton or Bernie Sanders in the race for the presidency.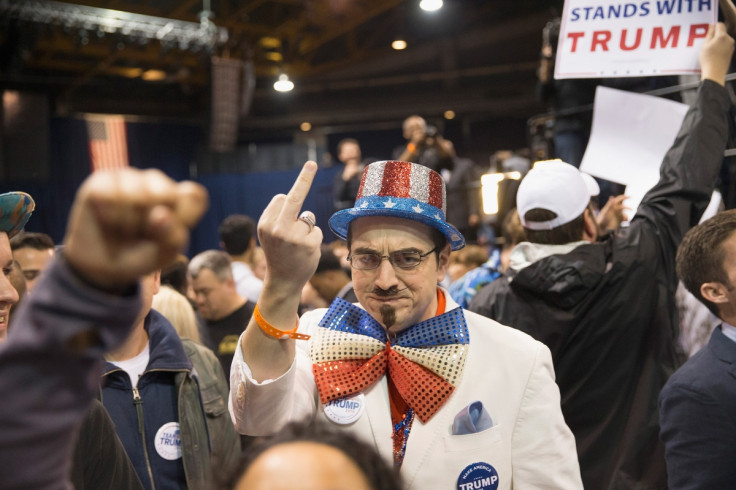 The Chicago Police Department said the decision to cancel the rally was made by the Trump team and was made against the advice of the police. However, the Trump team claimed that the Chicago police had said the rally should be cancelled.
On 15 March Florida, Ohio, Illinois and Missouri will head to the polls to vote in the party primaries.