Barack Obama and China's Xi Jinping Agree Landmark Cuts to Carbon Emissions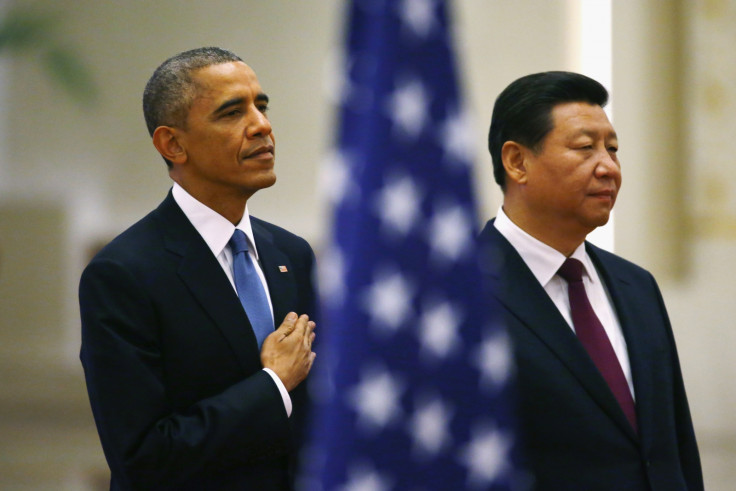 US President Barack Obama and his Chinese counterpart Xi Jinping have agreed to make landmark cuts to CO2 emissions over the next two decades.
On the sidelines of the Asia-Pacific Economic Cooperation (Apec) summit in Beijing, the leaders held bilateral talks in which China agreed to cut carbon emissions by 26-28% by "around 2030", while the US agreed to make the same level of cuts by 2025.
The Obama administration officials hope the joint announcement made by the world's top two emitters of CO2 would inspire other nations to follow suit. The deal is a result of months-long dialogue between the two countries.
According to the joint agreement, China has also vowed to increase its share of non-fossil fuels to about 20% by 2030. The country used under 10% of non-fossil fuel in 2013.
The White House said in a formal statement that China, for the first time, has agreed on carbon reduction, describing it as an "an energy revolution".
The statement read: "The United States and China hope that by announcing these targets now, they can inject momentum into the global climate negotiations and inspire other countries to join in coming forward with ambitious actions as soon as possible, preferably by the first quarter of 2015. The two Presidents resolved to work closely together over the next year to address major impediments to reaching a successful global climate agreement in Paris."
A senior Obama administration told the CNN: "Congress may try to stop us, but we believe that with control of Congress changing hands we can proceed with the authority we already have. This is really the crusade of a narrow group of people who are politically motivated and have made this a cause celebre, but we believe we will be successful."
© Copyright IBTimes 2023. All rights reserved.