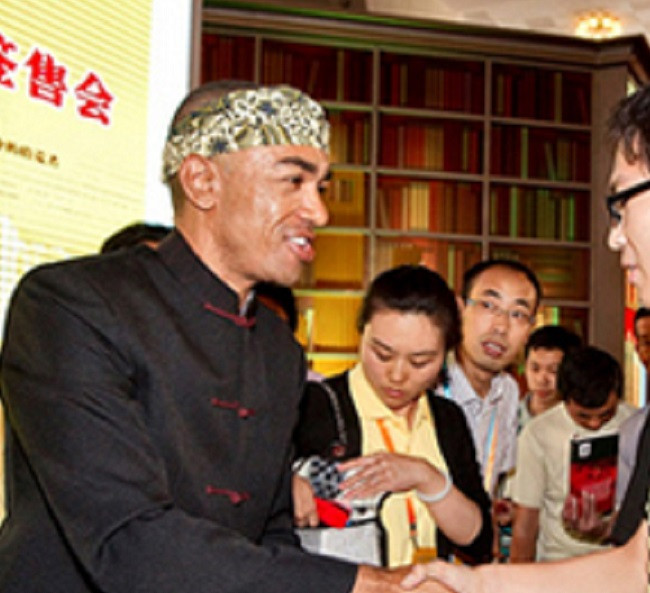 The brother of Barack Obama has opened up about the United States president and his Kenyan roots, despite the pair growing up on opposite sides of the world.
Mark Okoth Obama Ndesandjo, who lives in Shenzhen, a city in southern China's Guangdong Province, grew up with their Kenyan father in Nairobi. Barack was brought up with his mother Ann Dunham in Hawaii.
In an interview with the South China Morning Post, Ndesandjo explains how he wanted to tell the story of his family's roots. A far cry from Barack's upbringing in Honolulu, Ndesandjo spent his early years with their abusive, alcoholic father in Kenya, which had become newly independent in 1963.
He left Kenya for the Unites States aged 17 and completed a scholarship degree in maths and physics at Brown University, in Rhode Island.
Ndesandjo, now aged 48, emigrated to China from Orlando, Florida, in 2003 after he was made redundant in the telecommunications industry in the post-9/11 economic slump. Wanting to explore China, he wrote to the director of a teaching project on the mainland.
He now lives with his wife, Liu Xuehua, speaks fluent Putonghua and runs a children's foundation. Ndesandjo also heads two consulting companies that assist American investors entering the Chinese and Kenyan markets.
When did he meet Obama?
Ndesandjo met his brother in 1988 in Nairobi. He said: "My mother came to the doorway and was trembling. She said, 'Your brother from America is here. He wants to meet you.'"
While Obama's 1995 biography Dreams From My Father stated their mother sent a car to pick him up from the airport, Ndesandjo said that this was not the case.
He explained: "It was never like that. He and my half-sister, Auma, walked in that afternoon out of the blue. It was a year after my younger brother, Bobby [David Opiyo], had died in a motorcycle accident. I thought, 'What are they doing here?'"
The brothers met again a few days later. He said: "He looked so similar to me, we both loved America and were going to Ivy League schools."
However, they did not immediately click: "Barack felt I was too Western, and I thought he was trying too hard to be African. He wanted to know a lot about my father [who had passed away in 1982], and he was very direct with his questions. I felt like he was opening up old wounds."
He added that Barack was not aware their father was an abusive alcoholic, which has tarnished their relationship.
Who was Barack Obama Snr?
The father of Ndesandjo and Obama was born in 1936 in Nyanza province of western Kenya. He attended the Maseno School, the oldest and most prestigious educational institution in the country.
Although he was described as an "exceptionally bright student", a "behaviour infraction" prevented him from graduating. Elizabeth Mooney Kirk, an American women who he reportedly seduced, agreed to bankroll him - allowing Obama Snr to emigrate to the US.
He met Ruth Baker at a party in the 1960s, who was a Jewish Harvard graduate of Russian and Lithuanian descent. Obama Snr proposed after two months of dating and the pair relocated to Nairobi, where he was expected to have a successful government career. Instead, however, he turned to drink.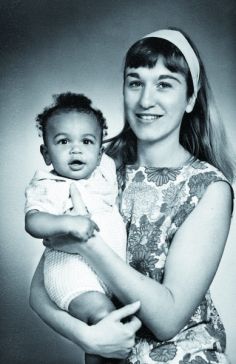 At this point, Baker did not know about Barack and his mother, Ann Dunham, who married Obama Snr three years previously in 1961.
In her memoir, Baker revealed Obama Snr drank heavily and hit her. She had their marriage anulled after seven years. Despite the violence, Ndesandjo claims Barack admired Obama Snr because he "had been proud to be a black African" and a "person who wouldn't let anyone get in the way of Kenyan independence and the flow of free ideas".
Do the brothers still speak?
Ndesandjo has since dropped the Obama name, but keeps in occasional contact with Barack.
According to Ndesandjo, Barack used too much artistic license in his autobiography: "There was also a playing up of our wealth in Kenya. We could never have afforded to send a car for him."
He added: "I sometimes feel we - the Obama family - have been used. Since being elected, Barack has been trying to distance himself from his relations in Kenya, and he's overly sensitive to the African dimension of his past. That's not right."
However, Barack's campaign began to heal the rift between the brothers. Ndesandjo flew to the States to support Barack at his 2008 Democratic Party presidential debate against Clinton in Austin, Texas. When he was elected, the whole family was flown to the White House for the inauguration.