Barcelona alerted as Manchester United 'launch' £30.6m bid to sign Benfica right-back Nelson Semedo
Jose Mourinho has already signed his teammate Victor Lindelof ahead of next season.
La Liga giants have reportedly identified Semedo as the back-up option to Arsenal's Hector Bellerin.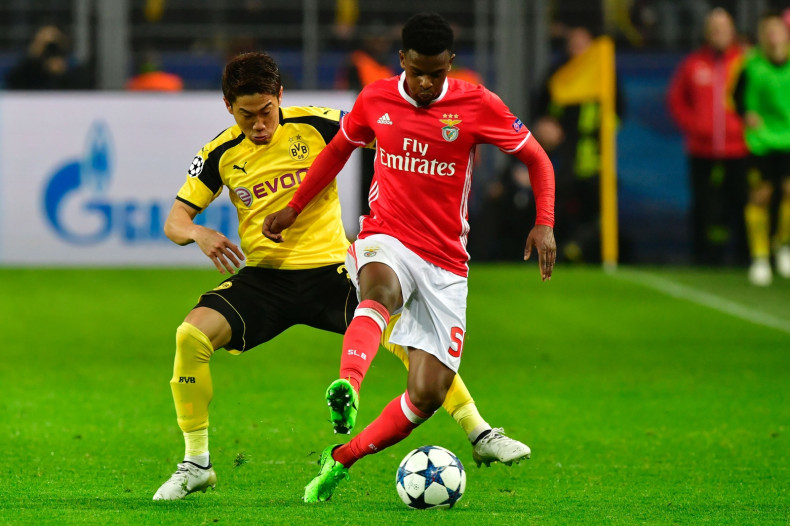 Manchester United have reportedly launched a €35m (£30.6m, $39.2m) bid to secure the services of Nelson Semedo from Benfica. Mundo Deportivo claims that Barcelona, Manchester City, Paris Saint-Germain and Bayern Munich are also interested in the Portugal international but Jose Mourinho has stepped up the negotiations to fend off the competition and lure the right-back to Old Trafford.
Semedo, 23, has been tipped to leave the Portuguese giants during the summer transfer window after having garnered a reputation as one of the most promising right-backs around Europe.
Last month O Jogo reported that Benfica president Luis Filipe Vieira travelled to England to negotiate the sale of both him and Victor Lindelof to the Premier League side.
United have since confirmed the signing of the Sweden international as Mourinho's firs signing of the summer. However, speculation over Semedo had cooled in recent weeks amid suggestions claiming he could instead make a move to Barcelona.
The La Liga giants are desperately looking to sign a right-back and several reports claimed that they had identified Semedo as the back-up option for Arsenal's Hector Bellerin.
Benfica B boss Hélder Cristóvão then added fuel to that speculation, claiming that Barcelona would be the "ideal" place for the 23-year-old right-back to continue his career.
"Semedo has it all," he admitted. "If he signed for Barça, ​​I'd be very happy, because it is the ideal place for him," Cristóvão said last week.
But Barcelona will have to act quickly if they really want Semedo as Mundo Deportivo is now reporting that United have already launched a €35m offer to win the race for his services.
Mundo Deportivo says that Benfica planned to spark an auction between United, Barcelona, Manchester City, PSG and Bayern in order to get as much as €40m for the player.
But Mourinho has decided to make the first move to try and beat the rest of the suitors by making a bid – and the Red Devils could have an advantage over the situation following the signing of Lindelof.
Mundo Deportivo suggests that Barcelona don't plan on entering the race anytime soon as signing Bellerin from Arsenal remains as Ernesto Valverde's top priority.
The Catalans only plan to bid for Semedo if they fail to convince Arsenal to part ways with Bellerin. However, the Spanish publication suggests that then it could be too late as Benfica want to cash in on the Portugal international as soon as possible.