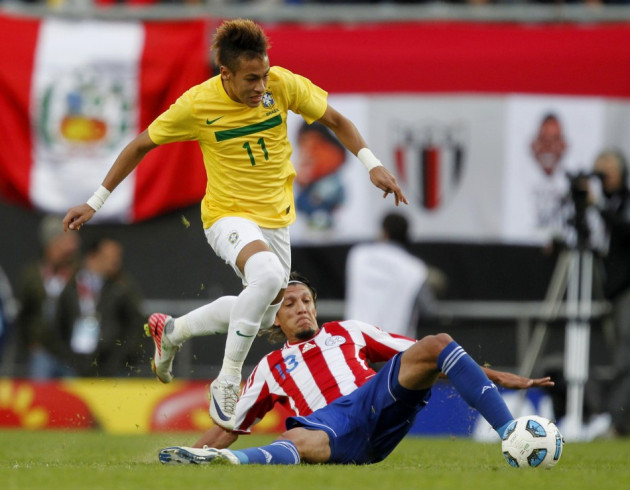 Santos president Alvaro de Oliveira has refused to rule out a January move for striker Neymar, amidst reports that the club have finalised a deal with Barcelona.
The Brazil striker was heavily linked with a move to either Real Madrid or Barcelona over the summer but the youngster decided to stay with Santos to play in the FIFA Club World Cup in January.
However, the player appears likely to move in January following recent comments attributed to the Santos president.
"A few days ago I spoke to Sandro Rosell [Barcelona president] and Fiorentino Perez [Real Madrid president] and if they want to get in contact with me again, then they have my phone number.
"Real Madrid and Barcelona are two historical clubs in European and world football, and we have the best of relations with both."
Oliveira went on to say that he would like Neymar to remain at Santos but admitted the club could sell the player if a substantial bid arrived.
"I understand that there is interest, but I do not want to sell Neymar to Madrid or Barca. The player is happy to stay here," he said.
"But it is a question of price. The buyout clause does not worry us."
A clause in the 19-year-old's contract means Santos are required to consider offers of £40m. However, reports from Spain suggest Barca are unwilling to meet Santos' valuation and have instead turned their attention to Liverpool striker Luis Suarez.
Suarez, who's agent just happens to be Barca coach Pep Guardiola's brother, has previously expressed his desire to one day play for the European champions. However, Liverpool are unlikely to accept any offers below £40m for a player who has settled well on Anfield following his January transfer from Ajax.
Barcelona are also reportedly keen on Chelsea defender David Luiz as Guardiola looks to bolster his defensive options in January.
The La Liga champions have struggled to identify a long-term replacement for Carles Puyol after the veteran Spaniard underwent knee surgery, with Javier Mascherano and Eric Abidal utilised in a makeshift defence.