In just a couple of hours, Xavi Hernández, will hang up his boots. Seventeen years after cutting his teeth in professional football, he will play his last match for Barcelona. And the script places the end of this wonderful film in the most brilliant scenario of European football, the Champions League final.
In just a couple of hours, Xavi will either lift the trophy or pick up a medal dejected. However, the story will not change significantly. Almanacs will record that Barça's number 8 won his 25th trophy with the club or had to settle for 24, but paying tribute to Xavi demands something more than a simple ledger of wins, losses and trophies. Xavi's farewell requires one to look back on a career full of talent, pragmatism and leadership.
Nobody explains it better than Iñaki Saez, the former Spanish national coach and one of the main influences for this legendary player since he was a youngster. Sáez looks ahead to Saturday's Champions League final between Barcelona and Juventus "with a sad feeling. But, at the same time, I feel blessed because I have been able to work alongside this gentleman. Above his skills, above his titles that make him the best player in Spanish football history, we are talking about a wonderful human being".
Speaking exclusively to IBTimes UK, Sáez tells an little-known story to make us understand why Xavi is more than "just" a superb football player. "As a manager, I had the opportunity to work with Xavi for the first time when he was 18, he was under my command in Spain's youth team. At that age, you notice instantly when a player has special skills. By that time, it was very obvious that Xavi was a superb playmaker. He was the best when it came to passing the ball, and assisting. But the first anecdote that made me realise that I was contemplating a legendary midfielder happened in Nigeria".
It was 1999 and Spain were contesting the Under 20-World Cup in Africa. "The organising comittee sent us to a miserable hotel. Full of insects and even salamanders. There were not enough beds, so the only way to deal with the situation was to sleep two in a bed, in couples. It was a disaster and there was a big controversy among the young squad.
"The three captains, Xavi among them, had a meeting with me. They wanted to leave. I talked to Xavi and explained him that I fully understood the players. But, at the same time, I remarked that elite football was not going to be a bed of roses. Maybe the problems that they would have to face in the future would not involve salamanders crawling over the players during their rest time. But, at the same time, I made him understand that there were plenty of talented young players in Spain that would be capable of sleeping in a room full of lions to make the most of the opportunity they were given."
Saez recalls that Xavi listened with this eyes wide open. "He did not say a word. He went back to the group. He spoke to the group. Half an hour later, the group was sleeping. Two players in each bed, with salamanders lurking in the rooms". Days later, Xavi and Iker Casillas's Spain lifted the World Cup.
'His empathy and humility really stand out'
But it is not just Xavi's values or leadership qualities that make him probably the best player in Spain's history. "His empathy, humility, his ability to let his team-mates increase their skills with his style of football has been a key fact in his career, in the context of a modern football in which fame, media and egos have left this sport bloated" says Saez.
"I say it again. He is one of the five best players in the last decade, he has been absolutely influential in Guardiola's Barcelona or in Del Bosque's Spain. Their styles can not be understood without Xavi".
It is impossible to find a better track record in European football in the last few decades. Xavi has lifted 24 trophies - eight La Liga titles, six Supercups, three Copa del Rey triumphs, three Champions Leagues (four if Barca beat Juve on Saturday) two European Supercups and two Club World Cups. Simply astonishing. To all these triumphs we have to add a World Cup and two European Championship crowns with Spain. If you look at the records of players such as Zinedine Zidane and Diego Maradona, it's clear Xavi is worth his place alongside them.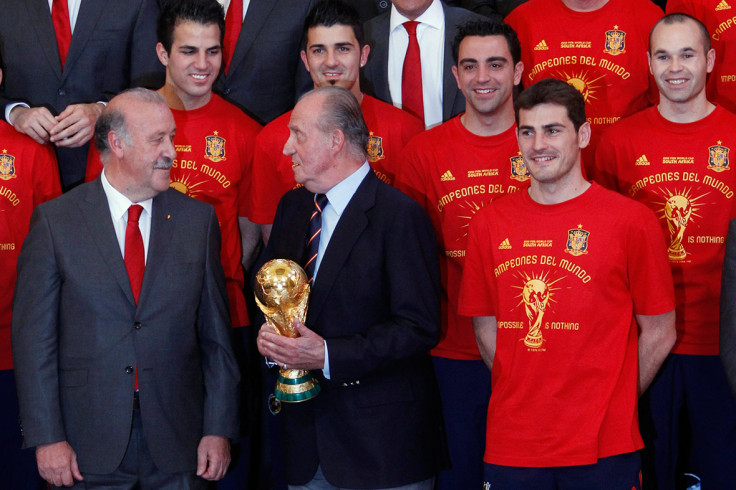 There is one key factor in his success according to Saez. "Nobody talks about this, but Xavi has grown as a player every single year. After every season, you can realise Xavi is a better player than 12 months ago.
"At first, he was a superb assist-maker. But he "just" did that, he did not score goals and he showed some flaws. Little by little, he started perfecting his abilities, his positioning, his ball circulation, until he reached a point in which he was the best in the world when it comes to this sort of skill. He ends his career with an outstanding amount of goals, taking into account that he is a pure central midfielder. His figures strengthen this theory. He finishes his career with 58 goals in 505 games with Barcelona, 12 in 133 games with Spain".
When the referee blows the final whistle in Berlin next Saturday, Xavi will be very emotional and euphoric, or very sad and deflated, depending on the result. "However, no matter how good or bad the result turns to be, when he gets out of the changing rooms after having a shower, he won't have the chance to tell himself that he could have made a bigger effort" says Saez. "He will feel the satisfaction that only those sportsmen who make the most of their careers enjoy.
"Xavi has reached his peak, what we see is the 110% of his limits. As I said before, one of the five best players in the World".
Saez finishes his discourse with a reflection. "In a culture in which we look for talent everywhere, making the most of a season year after year, over almost two decades, proves the difference between amazing players and the very best in football's history. It is obvious that Xavi Hernández will hang up his boots in the second group."
Oier Fano Dadebat is a Spanish journalist who divides his time between San Sebastian and London. You can find out more about him on Twitter @oierfano.