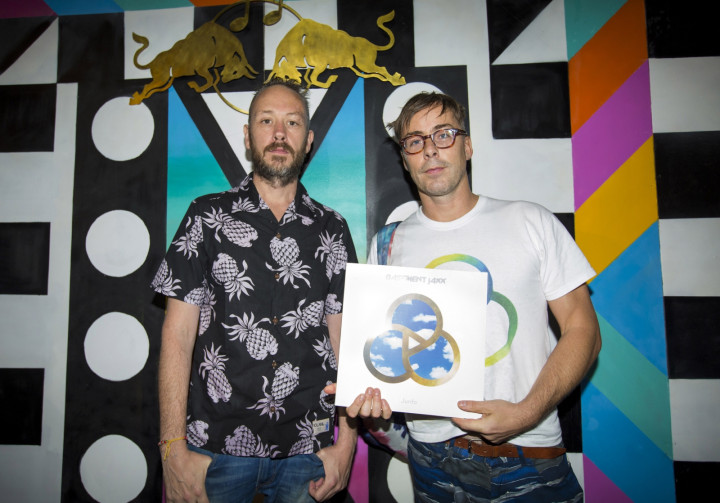 Felix Buxton, 44, one half of the electronic dance music duo Basement Jaxx with Simon Ratcliffe, 47, was inspired to write a song about UFOs after seeing one personally while in the recording studio in King's Cross, London.
The new Basement Jaxx album Junto is now available and in addition to UFOs, features mermaids and Japanese twerking robots of the future.
"I saw it from the studio. It was a bright, sunny afternoon in London and I saw a flying saucer. Luckily I was with someone else at the time, so people can't think I'm barking crazy," Buxton told USA Today.
"For me, seeing that UFO opened my eyes, made me think more about looking for the meaning in things, and thinking about my music and purpose. I believe in ghosts and angels and UFOs. It's up to you if you do, too."
Buxton told the Independent that he and singer/songwriter Kristyna Myles saw "something very still and glinting in the sky, like light reflecting off a car" that looked like "a flying saucer".
Both he and Miles rushed to film the incident on their smartphones, but it was so small that they could not zoom in their phone cameras enough to get a clear enough image before it had gone.
Questioning his spirituality
Buxton also recently gave a talk to students at Oxford University and was relieved that no one made fun of him for his close encounter.
"The students were cool about it – whereas people of my generation tend to get angry when I tell them I saw something I don't understand. It shows how closed-minded people are, generally," he said.
Since the encounter, Buxton has been questioning his own spirituality a lot more and has also been speaking to his father, a vicar, about "ghosts and exorcisms and different dimensions".
On Tuesday night, Buxton also took part in an official AMA session on Reddit at 11pm BST where he answered questions from fans for little over an hour.
Besides talking about the music industry and revealing how he wishes he could have met Ghandi and done a rap with him, Buxton also revealed that he believes astral travelling (i.e. having an out-of-body experience, also known as "astral projection") is possible by taking an Amazonian caapi vine called Ayahuasca.
Hoping to astral project
"Anything is possible if you put your mind to it - I'm hoping to put my mind more to astral travelling. I'm interested in trying Ayahuasca. Have you ever tried such a thing? I know a friend who did it and met all of his ancestors and said it was an incredible experience," he wrote in response to a question by Reddit user BananaKru.
"I'm very interested in the idea that our spirit can fly around and I'm interested in understanding ourselves linked to past/future lives and worlds - it definitely beats reality TV and being bombarded with shouting, dumb distractions."
When asked how he and his music partner Radcliffe are able to keep working together after so many years, Buxton said that giving each other space was an important part of their relationship, to ensure that neither of them grew in "each other's shadow".
The end of "old" Basement Jaxx
Answering anxious fans' fears that Junto might be Basement Jaxx's last album, Buxton said that they would still record, but it might be "the end of the old Basement Jaxx".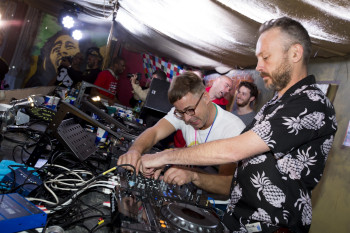 He said: "I'm interested in creating some sort of future musical performance/gig/theatre and Simon said he's interested in contributing."
Buxton added that he is keen to develop the experimental live music he worked on last year with Dutch jazz and pop orchestra Metropole Orkest, while Radcliffe is interested to work on more orchestral music and perhaps write the music scores for more films.
The next music video to be released will be the spacey-sounding UFO anthem We Are Not Alone and the video will feature sloths, Buxton added.
Basement Jaxx will perform live in December 2014 at the O2 Arena, and hope to travel to Japan, Australia and the US after that.