Syrian President Bashar al-Assad visited a crucial air base operated by Russian forces shortly after the US warned that Damascus will pay a heavy price if it launches a chemical weapons attack.The embattled Syrian leader inspected Russian weaponry and was even pictured inside the cockpit of a Su-35 fighter jet, familiarising himself with the functions.
Assad's visit to the Khmeymim airbase was reported by Syria's state-run Sana news agency along with several pictures of him overseeing the facility. This is the first time Assad is in the military airfield located in the Latakia province – the facility that played a crucial role in support his regime.
The Khmeymim airbase remains pivotal for Russia's air strikes since it launched its operations in 2015 in favour of Assad.
"The Syrian people will not forget that its Russian brothers stood next to them in this national war," Assad wrote in the visitors' book kept at the airbase. Assad was accompanied by Russian chief of staff General Valery Gerasimov.
The two high-profile figures discussed coordination of Russian and Syrian forces in their fight against militants in Syria, which has been reeling under a bloody conflict for the past six years with no end in sight.
Russian defence ministry has also issued a statement confirming Assad's discussions with Gerasimov. "While walking about the Khmeymim airbase, President Bashar Assad familiarised himself with the Russian Su-35 fighter jet and other state-of-the-art weapons," said the Russian ministry's press service.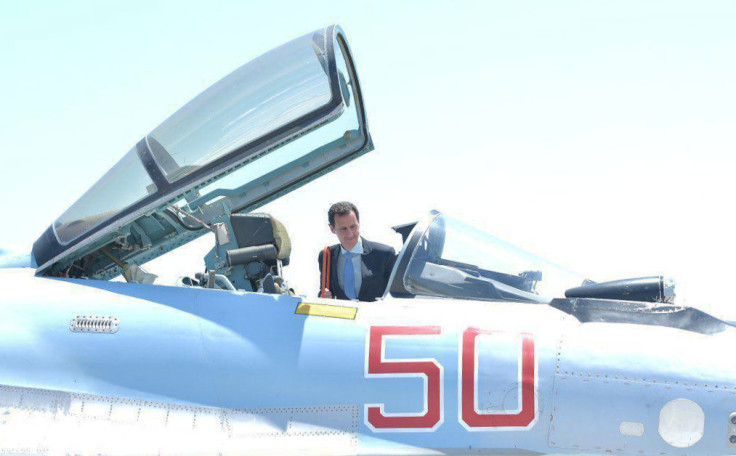 Pictures shared by the Syrian media agency reveal that Assad was shown Russian small arms, including an AGS-17 automatic grenade launcher and an RPG-7 portable anti-tank grenade launcher.
In the past few days, Assad has been reported to have toured many areas surrounding the capital Damascus. It is rare for Assad to venture out from his seat of power anywhere outside in the conflict-torn country.