Eighty years on from the Battle of Cable Street, one of its remaining survivors has spoken at its commemoration rally. Max Levitas, 101, was a 21 years old when Irish and Jewish migrants clashed with Oswald Mosley's British Union of Fascists.
Still living within walking distance of Cable Street in east London, Levitas vividly remembers the events of that day on 4 October 1936, and the message he believes we need to take forward.
Speaking to IBTimes UK, he said: "It is great to see so many people here, but it is important to remember why we come.
"Fascism and racism are still present today and like we did back then, we must play our part to stand up to them.
"We must take on those groups who encourage racism, whatever form it's in. Whether it's the Tories, the far right or anyone, we must not let them divide us and we must take them on head-on."
Levitas was born in Dublin and came to east London as a 16-year-old after four years of living Glasgow.
As a Jew and as an Irishman, he was representative of both minorities living in the East End and said he gained his political colours while in Glasgow. Two years before the Battle of Cable Street, he was arrested for similar anti-fascist demonstrations which took place in Trafalgar Square.
That political activism continued throughout his life and he would later become a Communist Party of Great Britain councillor for Stepney Council for 15 years.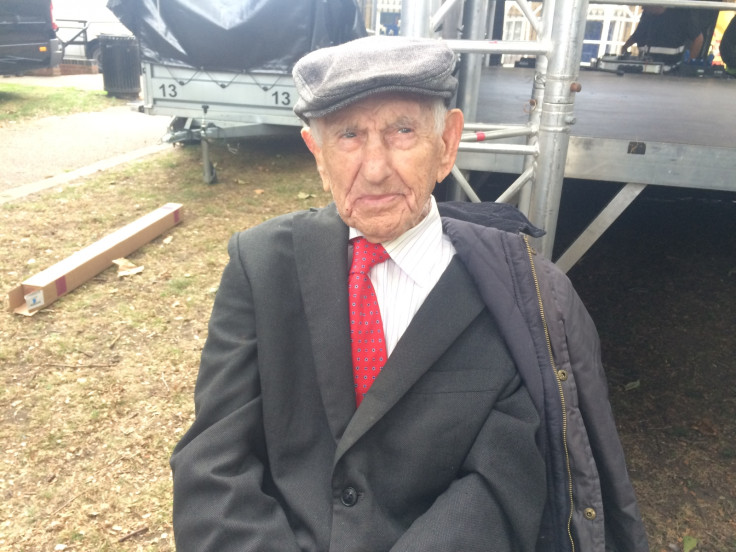 Speaking at the rally at St George's Street Gardens, Levitas received the biggest round of applause by far, saying: "Whether you are in the Communist party, whether you are in the Labour Party, whatever party, we must all come together.
"You are the leaders and we as a people must unite so we do not allow another Tory government."
After delivering his speech on Saturday, he could be seen warmly embracing Jeremy Corbyn who later gave a speech of his own.