Iraqi forces are thought to have made early gains in the ongoing battle against the Islamic State (Isis) in reclaiming Mosul. On the first day of the operation, which is expected to last for weeks, if not longer, the Iraqi forces joined by the Kurdish Peshmerga troops have regained an area of about 200sq km in Iraq's second-largest city from the IS.
Buttressed by US air strikes, columns of Peshmerga forces, which are thought to be coordinating for the first time with the invigorated Iraqi troops, converged on Mosul from the eastern and southern sides. Up to 17 villages surrounding Mosul have been taken back by Kurdish and Iraqi forces.
Bringing back Mosul, the city from where IS (Daesh) leader Abu Bakr al-Baghdadi declared the caliphate in 2014, has remained elusive for Iraqi forces for a long time but the 90,000-strong coalition troops outnumber the IS this time. In addition, the Iraq-led forces are backed by nearly 90 warplanes, which would provide air cover. Mosul remains the last stronghold of the IS and hence retaking the large city would be a major breakthrough for the coalition forces.
A day after the Iraqi government announced the launch of the operation from dawn, Iraqi Kurdistan President Masoud Barzani told reporters at a press conference near Mosul: "Today is a turning point in the war against terrorism. This is the first time that Peshmerga forces and Iraqi army have cooperated and fought in the same area. We are hopeful that this operation will be successful and that Mosul will be liberated. But this does not mean that the terrorist threat is over."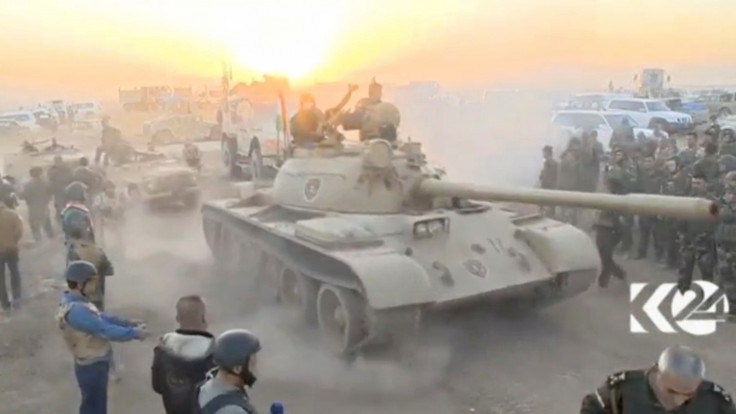 The advancing troops were stopped by a wave of suicide car bombers of the IS in an attempt to slow them down. In the previous battles of Ramadi and Fallujah, the terror group resorted to similar techniques by initially sending suicide bombers but the Iraqi forces managed to capture both the cities eventually.
In Washington, Pentagon spokesperson Peter Cook told reporters: "Early indications are that Iraqi forces have met their objectives so far, and that they are ahead of schedule for this first day. This is going according to the Iraqi plan — but again, it's early, and the enemy gets a vote here. We will see whether ISIL [IS] stands and fights," using another acronym for the IS.
"We are confident no matter what, however, that the Iraqis have the capabilities to get this job done, and we stand ready to support them, along with the rest of the coalition," Cook added.