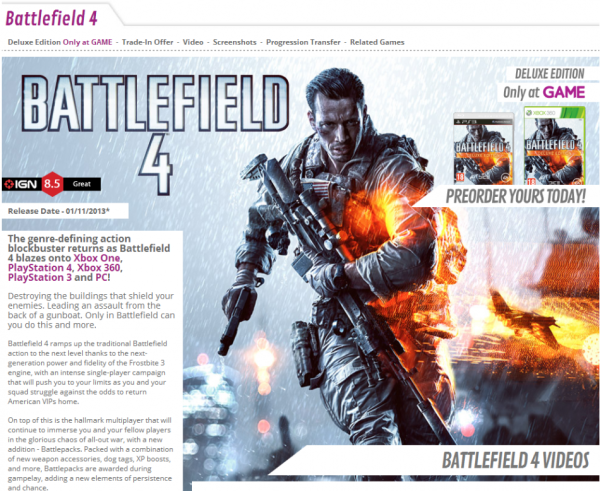 Battlefield 4 (BF4), the highly anticipated first-person shooter game from EA's DICE (based on Frostbite 3 engine) has already been released in the US, while its UK release is set for 1 November. The game will make a simultaneous release on PC, Xbox 360 and PlayStation 3 on the same day in Europe.
The PlayStation 4 release will be starting 12 November in North America and 29 November in Europe, while Xbox One will launch the game title starting 19 November in North America and 22 November in Europe.
Battlefield 4 is now available for pre-orders on all major video game retailers in UK including GAME, Amazon UK and Play.com. The Deluxe Edition of the game is exclusively available from GAME only. The game pre-orders (Origin) are also available via Battlefield.com and prospective buyers will be eligible for free China Rising multiplayer expansion pack with every purchase.
Battlefield 4 Deluxe Edition Features (Xbox 360, PS3, PC)
Battlefield 4 China Rising Expansion Pack
Collectable SteelBook Cover
In addition, GAME offers exclusive pre-order bonus on purchasing BF4 for Xbox One and PlayStation 4 users, which includes the following:
GAME Exclusive set of Real Battlefield 4 Dog Tags
One Gold Battlepack containing a combination of bonus items to add an all-new layer of multiplayer persistence
Air Vehicles Shortcut Kit for use in Battlefield 3 that immediately unlocks all 38 upgrades for the jets and helicopters
Battlefield 4 Premium Edition (Xbox Live, PC)
The UK online retailer GAME is also offering pre-orders on Battlefield 4 Premium version with the following goodies:
All five expansion packs featuring new multiplayer maps and in-game content, complete with two-week early access
Priority position in server queues
12 bonus Battlefield 4 Battlepacks
Exclusive personalisation options including camos, paints, emblems, dog tags and more
New content every week
Seamlessly transfer Premium Membership from Xbox 360 to Xbox One or PlayStation 3 to PlayStation 4
GAME is also offering an exclusive £40 trade-in discount programme when you upgrade to Xbox One or PS4. Besides, players can carry forward their saved online (multiplayer) game progress when they upgrade from Xbox 360 to Xbox One or from PS3 to PS4. In other words, you can transfer all your unlocks, ranks, premium etc. free of cost, as well as get all premium content and benefits transferred when you upgrade your console.
Complete Pricelist for all Platforms
PC Download: £44.99
PC DVD: £44.99
PS3: £54.99
PS4: £54.99
Xbox 360: £54.99
Xbox One: £54.99
PC System Requirements
Minimum requirements:
OS: Windows Vista SP2 32-BIT (With KB971512 platform update)
Processor: AMD ATHLON X2 2.8 GHz or Intel Core 2 Duo 2.4 GHZ
Memory: 4 GB
Graphics Card: AMD Radeon HD 3870 or NVIDIA GeForce 8800 GT
Graphics Memory: 512 MB
Hard Drive: 30 GB
Recommended requirements:
OS: WINDOWS 8 64-BIT
Processor: AMD Six-core CPU or Intel Quad-Core CPU
Memory: 8 GB
Graphics Card: AMD Radeon HD 7870 or NVIDIA GeForce GTX 660
Graphics Memory: 3 GB
Hard Drive: 30 GB
Check out the official multiplayer launch trailer and Levolution features video below:
Also Read: Battlefield 4: China Rising DLC Release Details Revealed